Posted by: Loren Coleman on January 12th, 2007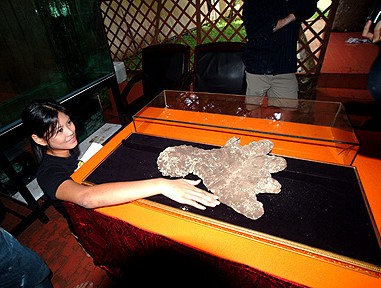 The Hollywood Reporter is spreading the news that "Destination Truth" on the Sci Fi Channel is a go for April 2007.
After the Destination: Truth expedition of February 20, 2006, found footprints at Kampung Lukut, a new wave of ecotourism was stimulated and foreign tour groups began arriving.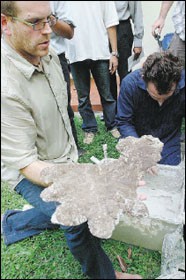 The cast discussed around the world: Joshua Gates shows the media the footprint cast the "Destination Truth" team discovered in February 2006.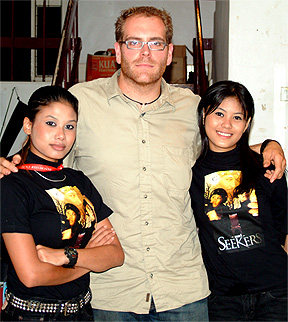 Reporter Kimberly Nordyke writes:
The six-episode weekly reality show features Josh Gates, described as a world adventurer and "eager truth-seeker," visiting a different destination every week with his small crew of production buddies. Each destination is said to be home to supernatural, mysterious stories — such as the Fire Worm of Mongolia and the Chilean Chupacabra — that Gates will set out to either prove or debunk by talking to witnesses and experts and immersing himself in the local culture.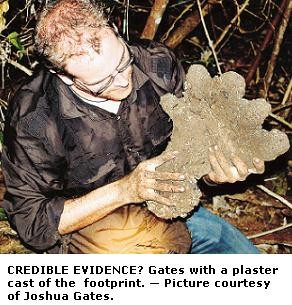 The hourlong series is executive produced by Neil and Michael Mandt for their Mandt Bros. Prods., whose credits include ESPN's "Beg, Borrow & Deal" and "Jim Rome Is Burning," Pax's "Speed Dating" and E! Entertainment Television's "My Crazy Life." The Mandt brothers were repped by Rebel Entertainment Partners and attorney Todd Stern in the "Truth" deal.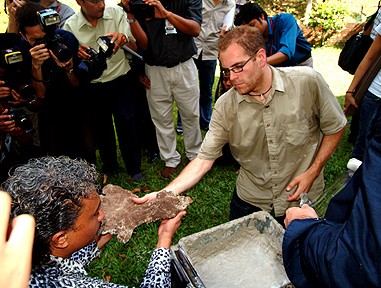 "Truth" is in production for a second-quarter premiere. Sci Fi had originally said that the show was in development as part of an overall slate unveiled in April.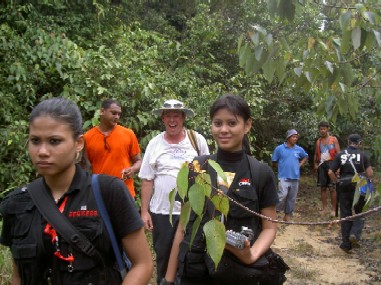 This image taken during the February trek shows Sis on the left, Illa on the right, as well as others. The man shown in the orange shirt is the security guard hired by the Mandt Bros production. The individual in the hat is Tony Burke, an Aussie tracker. Photograph courtesy of Jan McGirk, and it may be clicked to enlarge.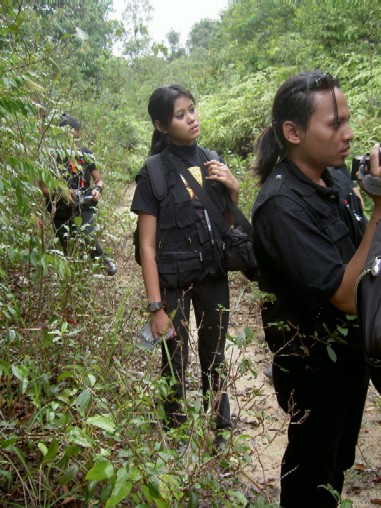 Another photograph of Illa courtesy of Jan McGirk, which also may be clicked to enlarge. She is wearing the same tee-shirt all three of the Seekers' women have on in several Johor Bigfoot cast photos.
Loren Coleman – has written 5489 posts on this site.
Loren Coleman no longer writes for Cryptomundo. His archived posts remain here at Cryptomundo.