Posted by: Loren Coleman on February 16th, 2009
Okay, the media can't help themselves. Expect more "Leave-It-To-Beaver" headlines and jokes, as this news gets out.
Wildlife officials are celebrating the sighting of an American beaver (Castor canadensis) in the Detroit River for the first time in decades, signaling that efforts to clean up the waterway are paying off.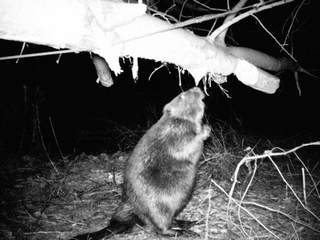 A photo taken by a Detroit Edison motion-sensitive camera in November 2008, shows a beaver on company property.
The Detroit Free Press announced on February 16, 2009, that a beaver lodge has been discovered in an intake canal at a Detroit Edison riverfront plant. Officials consider the beaver spotted by the utility's motion-sensitive camera marks the animal's return to the river for the first time in at least 75 years.
Photos and video were taken in November 2008, but Detroit Edison didn't want to release them until they could ensure the animal's safety.
"It's part of that larger story of ecological recovery," John Hartig, the Detroit River refuge manager for the U.S. Fish and Wildlife Service, told the paper.
Over the last number of years, other species have returned to the Detroit River area, said Hartig, citing sturgeon, whitefish, peregrine falcons, bald eagles and walleye.
"If it's cleaner for them, it's cleaner for us, too," Hartig said.
See the video here.
Loren Coleman – has written 5489 posts on this site.
Loren Coleman no longer writes for Cryptomundo. His archived posts remain here at Cryptomundo.