Posted by: Loren Coleman on February 14th, 2010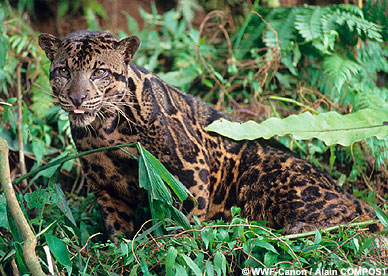 The Sundaland Clouded Leopard (earlier still image above + new video) has been filmed.  It becomes the first footage of the cat in the wild to be made public. It was released by scientists working in the Dermakot Forest Reserve in Malaysia.    
The Sundaland clouded leopard, only discovered to be a distinct species three years ago, is one of the least known and elusive of all cat species.
Two more rare cats, the flat-headed cat and bay cat, were also photographed.
Until 2007, all clouded leopards living in Asia were thought to belong to a single species.

However, genetic studies revealed that there are actually two quite distinct clouded leopard species.

As well as the better known clouded leopard living on the Asian mainland (Neofelis nebulosa), scientists determined that a separate clouded leopard species lives on the islands of Borneo and Sumatra.

The two species are thought to have diverged over one million years ago.

This leopard is now known as the Sunda or Sundaland clouded leopard (Neofelis diardi), though it was previously and erroneously called the Bornean clouded leopard.
For more details, see Matt Walkers article.
Bornean bay cat.
Marbled cat.
Flatheaded cat.
Loren Coleman – has written 5489 posts on this site.
Loren Coleman no longer writes for Cryptomundo. His archived posts remain here at Cryptomundo.