Posted by: Loren Coleman on August 21st, 2006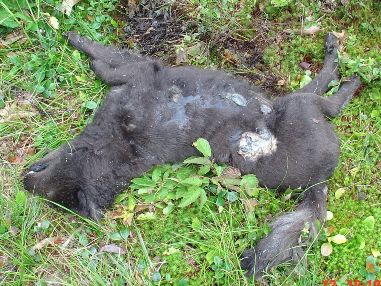 Click on image for full-size version
Photograph by Michelle O'Donnell. Used by permission.
On Monday, August 21,2006, Judith Meyer, editor at the Sun Journal in Lewiston, Maine, took a few moments to ponder the seven days that had just gone by. In her article "The Dog Daze in August," she writes, in part:
Last week was beyond weird. The public clamor for stories and photos about the mystery creature in Turner was so intense, the Sun Journal Web site couldn't keep up and crashed. The switchboard was busy with media requests from around the world, and researchers and experts in all things mysterious kept up a steady stream of offers to help identify the beast.
As the week wore on, interest intensified.
There's a local group that regularly gathers to hunt these creatures across the state. They've never been successful in their hunt, but do report seeing animals with glowing eyes in Maine's woods.
People report seeing a blonde creature in Poland very similar to the one photographed by Michelle O'Donnell. If there's two, there's probably more.
On Saturday, a group of people had planned to search the woods for whatever skull remained of the beast in an attempt to sell it on eBay. The closest place that sells dry ice is Elm Ice and Oil in Falmouth – hope they stocked up before the search.
At last word, they didn't find anything and the quest goes on. Of course, I think someone might have that skull already as a personal trophy on their mantle. Reporter Mark Laflamme and I talked last week about how we figured someone would have the idea of going on eBay with that skull if they found it, even though we merely wanted to find it ourselves to help identify whatever this "Mystery Beast" might be.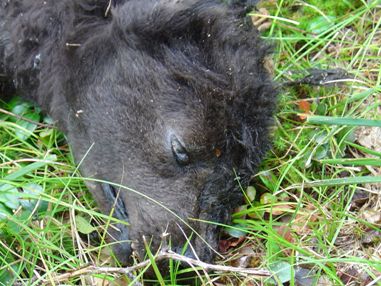 Click on image for full-size version
Photograph by Michelle O'Donnell. Used by permission.
Meanwhile, in the same issue of the paper, Mark talked about "Merchanising the Beast," so there's a few things to say about that elsewhere at Cryptomundo today.
Loren Coleman – has written 5489 posts on this site.
Loren Coleman no longer writes for Cryptomundo. His archived posts remain here at Cryptomundo.