Posted by: Loren Coleman on January 25th, 2006
BC Archaeologist Who Examined Bigfoot Tracks in 1967
Don Abbott was the curator of Archaeology at the Royal British Columbia Museum from 1960 until 2000. Abbott had a serious stroke in 2004, which left him paralyzed on one side. He had another major stroke in the spring of 2005 and died a few months afterward on July 28, 2005, at the age of 70.
Don Abbott had one of those significant footnote moments important to cryptozoology and hominology. As the first field archaeologist at the Royal British Columbia Museum, Abbott was assigned to go examine the series of Bigfoot tracks found at Blue Creek Mountain, California, in August 1967. He went down to California a skeptic, but returned open minded to the possibility of Bigfoot. In John Green's forthcoming 2006 reprint of his classic book, Sasquatch: The Apes Among Us, the photos of Abbott with these tracks have become familiar to most researchers.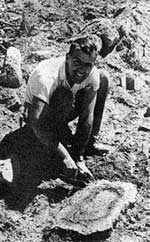 Don Abbott and the 1967 Bigfoot imprints
Credit: John Green's forthcoming Hancock House reprint, Sasquatch: The Apes Among Us
The Victoria Times-Colonist published Don Abbott's obituary on July 31, 2005. It reads, in part:
Abbott, Donald Neil. Died peacefully on Thursday, July 28. He was born April 30, 1935. Don is survived by his wife Maria, children James, Ian and Sarah; daughterin-law Jo-Ann; granddaughters Railey, Brynn, Chloe and Augusta; nephews Craig and David; niece Lynn and their children. Don was raised in Vancouver where he attended King George High School and the University of British Columbia, followed by postgraduate work at the Institute of Archaeology, London University and Washington State University, Pullman. Don was loyal to all his friends and a faithfully committed husband and father. He was fond of his Scottish heritage, loved wearing his kilt at formal occasions, a member of Saltire Society Victoria and for many years of the Victoria Branch of the Scottish Country Dance Society. He enjoyed photography and scuba diving especially with the Underwater Archaeological Society in their earliest years. In 1960 Don joined the staff of the Royal BC Museum as the first professional archaeologist in BC. In his 35 year career, Don continuously and selflessly promoted the discipline of archaeology. He conducted excavations on sites on southern Vancouver Island that contributed significantly to an understanding of Coast Salish history. Under his direction the Museum became the provincial centre for the documentation of archaeological sites and the storage of artifacts and associated data, held in trust for First nations. He was a member of the Archaeological Sites Advisory Board, of the committee that created 'Ksan Cultural Centre in Hazelton, worked on the Exxon Valdes Recovery Programme. Don loved words and language. As writer and editor he enhanced the stature and scientific rigor of publications produced under Museum imprint. His contributions remain important references in the literature, notably "The World is as Sharp as a Knife " an anthology memorializing his friend, the late Wilson Duff. Don brought high moral principles to his job. During his time, he was the primary conscience of the Museum, establishing and defending humanistic, scientific and literary standards. A modest man, he felt no need to proclaim his achievements but many colleagues remain honoured to have learned from and with him and continue to remember his selfless commitment to the unique cultural history of British Columbia. Don was a man of great dignity, humour and intelligence.
Thanks to a mention from Chris Murphy that "Don Abbott passed away" last summer, I was stimulated to search for more information, which finally resulted in targeted assistance from correspondent-associate Judy Gooch. Appreciation to both of them. Don Abbott should not be forgotten, and it is good to share the details of his obituary here.
Loren Coleman – has written 5489 posts on this site.
Loren Coleman no longer writes for Cryptomundo. His archived posts remain here at Cryptomundo.