Posted by: Loren Coleman on July 9th, 2011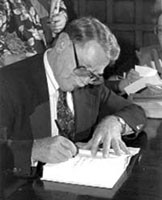 Allan Eckert, the Ohio author who penned the story that became the outdoor drama, Tecumseh!, has died.
He was a writer on the Mutual of Omaha's Wild Kingdom series. Eckert — considered a top-notch naturalist — took his love of the outdoors to television and wrote 225 scripts for the Mutual of Omaha's Wild Kingdom series. For this body of work, the National Academy of Television Arts and Sciences awarded him an Emmy in 1970. Unfortunately, his IMDb entry lists only three episodes: Desert Spring (1979), Cougar Family (1981), and Before the Storms of Winter (1981).  (It would have been interesting to know if he worked on the Abominable Snowmen episode.)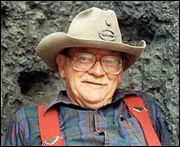 His first book, The Great Auk, was published in 1963 and followed the life and death of the last of a species of wingless birds. The book reflected not only his love of writing, but also his passion for wildlife and natural history.
Eckert's name is recalled in crypto circles due to his fictionalized documentation of various Indians named "Bigfoot" or "Big Foot," and for the links to the several attempts made back in the 1970s to crossbreed a domestic cat with a bobcat for Allan W. Eckert's movie The Crossbreed (but none of the kittens were tame as adults).
The Jesse Stuart Foundation, which worked with him on half of his 39 books, confirmed that Eckert died in his sleep at his home in Corona, Calif. on Thursday, July 7, 2011. He was 80. He was born January 30, 1931, in Buffalo, New York.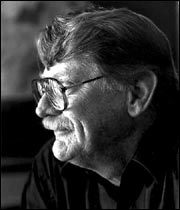 The author of the famed historical narrative, The Frontiersman, Eckert was honored, along with poet Toni Morrison, as Ohio's favorite all-time writer in 1999. That same year, The Frontiersman was selected in open balloting as the state's favorite book "About Ohio or an Ohioan."
Eckert was nominated seven times for the Pulitzer Prize and he wrote the play that became Tecumseh! which has played in Ross County since 1973.
Anthony Stephens, marketing director at The Jesse Stuart Foundation, said Eckert was working on his latest book, The Infinite Dream at the time of his death
"It is another book in his The Winning of America series and it should be out at the end of the summer," said Stephens.
Eckert wrote for 12 years and received more than 1,100 rejections before he was finally a published author.
"I figured I had something to say and someday somebody would realize that," he told the Gazette in 1996. "The first thing I had to do was properly learn how to say it."
As for the local outdoor drama, Eckert was originally asked to pen a drama about the life of Thomas Worthington, one of Ohio's first senators. He changed the mind of the Scioto Society and wrote about Tecumseh instead.
Eckert made regular visits to see the outdoor drama and his last visit came during 2010.
Eckert is survived by his wife, Joan.
Loren Coleman – has written 5489 posts on this site.
Loren Coleman no longer writes for Cryptomundo. His archived posts remain here at Cryptomundo.