Posted by: Loren Coleman on April 9th, 2009
Recall the recent find of a large snake in Portland, Maine?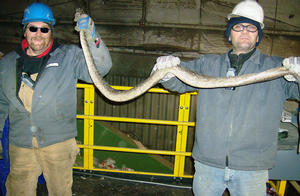 Ecomaine employees Charlie Radley and Goran Dobric display a dead 7-foot-long python they found recently while handling recycled materials at the local Maine facility.
Missi Labbe, a cryptozoology museum supporter, who happens to be the Program Development Manager at ecomaine has forwarded an update on the snake found discarded in a Portland recycling bin.
Bob Dubois of the Maine Herpetological Society was consulted as to the probable species. He told ecomaine manager Labbe that he thought it was an African rock python (Python sebae). It is a species that is restricted in Maine, meaning that it is not to be kept unless the owner has a special permit.
Dubois admitted that the snake could be easily mistaken for the Burmese python (Python molurus bivittatus), which it resembles even though the two species are not closely related.
Labbe also shares the following two photographs that were unpublished, but do show the markings on the snake more clearly.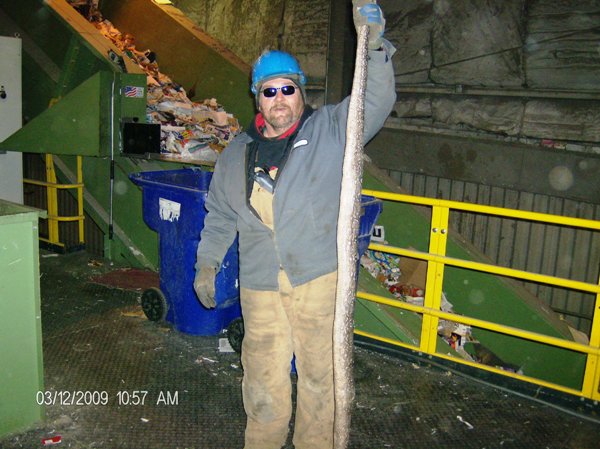 Click on the above image for a larger photo.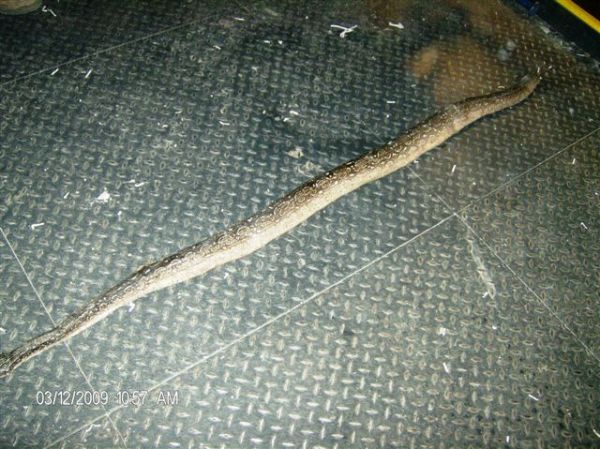 Missi Labbe is on the lookout for any alligators that come through ecomaine, or she hears about as being found in the sewers.
Your contributions to the research and/or museum are greatly appreciated. Thank you.
Loren Coleman – has written 5489 posts on this site.
Loren Coleman no longer writes for Cryptomundo. His archived posts remain here at Cryptomundo.