Posted by: Loren Coleman on August 31st, 2007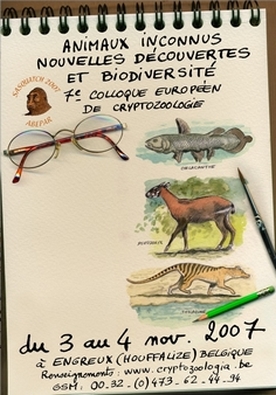 We shall be conducting our 7th European symposium at Engreux (in Ardennes, south of Belgium) between Saturday 3rd and Sunday 4th November 2007.

The theme is "Unknown Animals, New Discoveries and Biodiversity."

Pr. Franco Tassi (Center of Appennins Studies, ex-director of Abruzzo National Park – Italy), Dr. Enrico Migliaccio (BRAMEA – Museo di Scienze Naturali ed Ambientali di Mentana – Italy), Lorenzo Rossi (Groupo Criptozoologia – Italy), Yvette Deloison (CNRS – Paris (France), Marcus Matthews (Alien Big Cats searcher – England) will be presenting.Eric Joye
ABEPAR
Any readers of Cryptomundo attending? Anyone interested in being Cryptomundo's correspondent there?
The motif of a field notebook as the image for a website (e.g. the early version of Cryptomundo's individual blog pages), a book cover (e.g. Mysterious America's new cover), and/or a conference poster (e.g. above), is cleverly being copied throughout the field. I recall some historical examples, as well.
Loren Coleman – has written 5489 posts on this site.
Loren Coleman no longer writes for Cryptomundo. His archived posts remain here at Cryptomundo.