Posted by: Loren Coleman on July 27th, 2011
Hilary Evans, who was born in 1929, passed away this morning, July 27, 2011. He was an intellectual British pictorial archivist, author, and researcher into cryptozoological, Fortean, ufological and other undiscovered phenomena.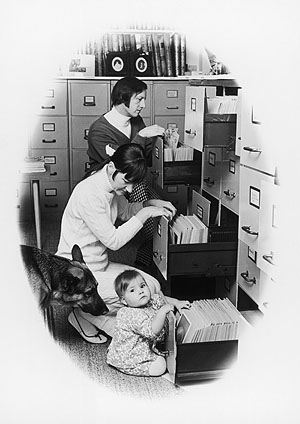 Hilary and Mary Evans began their archives modestly and it grew to be world-famous.
Evans was born in Shrewsbury, United Kingdom. In 1964 he and his wife Mary Evans founded the Mary Evans Picture Library, an archive of historical illustrations. In 1981 he co-founded the Association for the Scientific Study of Anomalous Phenomena.
Evans was an exponent of the Psychosocial Hypothesis of UFOs as culturally shaped visionary experiences.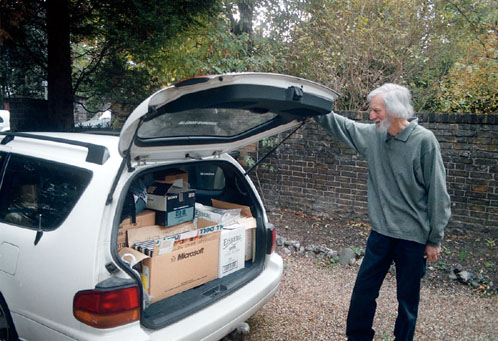 From 2003: Hilary Evans is seen bidding a farewell to some of his books and magazines before going to Sweden and preservation with AFU. Photo by Clas Svahn.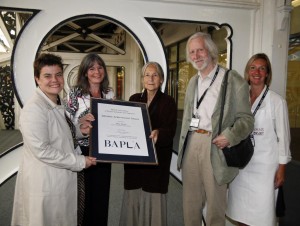 BAPLA took the opportunity of their 2007 Picture Buyers' Fair to give a very special award to a very special lady. Mary Evans, co-founder (with husband Hilary) of The Mary Evans Picture Library, was awarded the BAPLA Lifetime Achievement Award in recognition of her outstanding achievement and her lifelong contribution to our industry. A founder member of BAPLA in 1975, Mary tirelessly worked for the good of the industry, picture researchers, and the preservation of cultural heritage for more than fifty years. From left: Linda Royles, CEO BAPLA, Catherine Draycott, Chairman BAPLA, Mary Evans, Hilary Evans, Valentine Ward-Evans. Photo credit: Paul Brown
Mary Evans sadly passed away in 2010. (See more here.)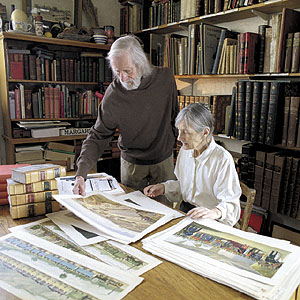 The Evanses and their great contributions to Forteana will be sorely missed.
With the passing of William Corliss earlier in July 2011, the deaths of two great archivists have been sadly and widely felt throughout the field of Fortean studies.
Loren Coleman – has written 5489 posts on this site.
Loren Coleman no longer writes for Cryptomundo. His archived posts remain here at Cryptomundo.