Posted by: Loren Coleman on January 17th, 2010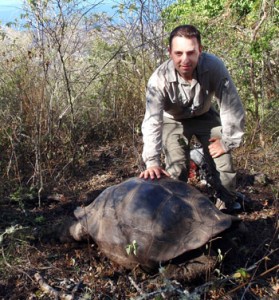 UBC Okanagan conservation geneticist Michael Russello with a Galápagos giant tortoise. (Photo contributed)
Nine captive Galápagos tortoises have turned out to be an extinct species. New genetic research has identified the captive giant tortoises as descendants of an "extinct" species formerly endemic to Floreana Island in the Pacific's Galápagos Islands. In an article published this week in the peer-reviewed online Public Library of Science journal PLoS ONE, the abstract notes:
Although not unusual to find captive relicts of species lost in the wild, rarely are presumed extinct species rediscovered outside of their native range. A recent study detected living descendents of an extinct Galápagos tortoise species (Chelonoidis elephantopus) once endemic to Floreana Island on the neighboring island of Isabela. This finding adds to the growing cryptic diversity detected among these species in the wild. There also exists a large number of Galápagos tortoises in captivity of ambiguous origin. The recently accumulated population-level haplotypic and genotypic data now available for C. elephantopus add a critical reference population to the existing database of 11 extant species for investigating the origin of captive individuals of unknown ancestry.
The finding caused one of the scientists, Michael Russello, a conservation geneticist at the University of British Columbia-Okanagan to tell the Kelowna newspaper,
We found nine tortoises that shared a high percentage of their sampled genome with the Floreana 'extinct' species – up to 94 per cent – and one tortoise may even be a pure-bred. The detection of these giant tortoises in captivity is particularly significant, as it enables a captive breeding program to get underway almost immediately.

It was also quite exciting that theses tortoises (six females and three males) are already living in captivity on Santa Cruz Island at the Galápagos National Park breeding centre, greatly facilitating conservation action.
"This is a story where humans can potentially right some previous wrongs," Russello says.
Thanks to Kevin Stewart for the news tip.
Loren Coleman – has written 5489 posts on this site.
Loren Coleman no longer writes for Cryptomundo. His archived posts remain here at Cryptomundo.