Posted by: Loren Coleman on March 3rd, 2010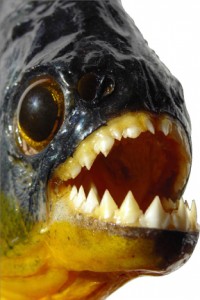 Here's the summary for tonight's program.
Remember, after this evening's show, next Wednesday is the episode on the Flatwoods Monster. Will MonsterQuest go with another one of Joe Nickell's "owl" explanations?
MonsterQuest: PIRANHA INVASION
WEDNESDAY MARCH 3RD 2010 at 9PM / 8PM central on HISTORY
For centuries the Amazon has been home to a frightening feeding frenzy of the most ferocious freshwater monsters known to man… piranhas.
These fish are said to "mutilate swimmers," their teeth cut through "flesh and bone" and the "blood in the water excites them to madness."
Now, these deadly monsters are appearing in US lakes and rivers. 
The MonsterQuest team is investigating how they may be adapting, and whether these carnivorous beasts could breed here and devastate our waters. 
Click here for more information.
Loren Coleman – has written 5489 posts on this site.
Loren Coleman no longer writes for Cryptomundo. His archived posts remain here at Cryptomundo.