Posted by: Loren Coleman on September 13th, 2007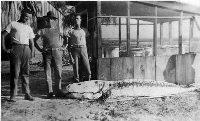 Everyone has his or her own idea as to what the Mystery Fish Photo postcard shows. Here's the latest from an individual who is so confident he knows what it is that his statements are declarative, and even has thrown in some speculation as to the marriage of one of the men pictured!
Ted Roever, once a member of the Florida Fish & Wildlife Conservation Commission and currently a part-time Instructor at Columbus State University, emails this into Cryptomundo:
This photo was taken in the Southeastern USA, there is a Sabal palm (cabbage palm) behind the screened shack. Out beyond the shack you can see the cord grass/ needle rush community that is typical of southeastern salt marsh estuaries. The fish would be a slightly desiccated Tiger shark (ironic, since the other mystery fish is a tiger fish) and the size compared to the humans would not be unheard of. If I had to speculate; Parris Island, SC – that Marine's Asian wife has already cooked the fins, that's why they are missing. The odd looking head is the result of someone's handiwork with a knife, you know a shark of that size can kiss its dentition goodbye! Tigers of 14 feet or more were caught regularly along the southeast coast of the US prior to the overcrowded conditions that now exist in the area.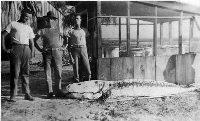 Loren Coleman – has written 5489 posts on this site.
Loren Coleman no longer writes for Cryptomundo. His archived posts remain here at Cryptomundo.