Posted by: Loren Coleman on August 4th, 2010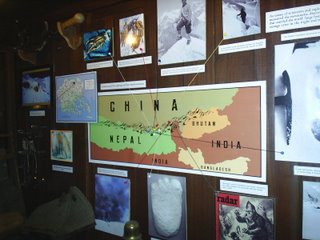 My photo of the Tom Slick Yeti track is displayed at Expedition Everest.
It is Disney's own version of the "Legend of the Yeti." When the in-line "museum" at the Expedition Everest attraction was being developed, I was called upon to help with the Tom Slick material. The Disney folks even put a copy of my book there. The Yeti was said to be a marvel to behold. But it has not worked for months.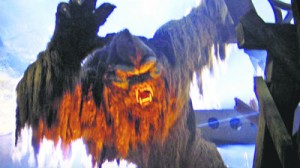 To some of Disney World's most devoted fans, the fact that the Yeti continues to languish is inexcusable. There are at least two "Fix the Yeti" groups (here and here) on the social-networking site Facebook (with a combined 154 members) and an online petition (with 218 signatures). [Numbers are much higher, already.]
For those fans, the broken Yeti is symbolic of what they call a Disney World management culture that puts profit growth ahead of quality.
Disney "used to beat into its cast members: safety, courtesy, show and efficiency. Show trumped efficiency," said Lee Harrell, a 41-year-old telecommunications sales representative from Aventura who said he visits Disney World several times each year. "And this is a case of efficiency obviously being put before a good show."
Deep inside the 20-story Expedition Everest attraction at Disney's Animal Kingdom stands one of the most sophisticated animatronics Disney has ever built: a nearly 25-foot-tall, 20,000-pound Abominable Snowman powered by hydraulic cylinders with more potential thrust than a 747 jetliner.
And it has stopped working.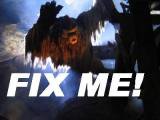 Where the Disney Yeti once snarled and lunged at passing roller-coaster trains, riders in recent years have found it motionless and dark, lit only by strobe lights designed to create an illusion of movement.
Much the way scientists have debated alleged sightings of a real Yeti in the wild, Disney followers now debate sightings of a moving Yeti inside Everest. There is an entry on the online encyclopedia Wikipedia devoted to the subject, which claims the "last known full A-mode operation" of the Disney Yeti occurred in March 2009.
It is the type of detail that likely goes unnoticed by the vast majority of the 26,000 people who visit Disney's Animal Kingdom each day. But among Disney's most passionate followers, it is a source of uncommon consternation.
More here.
Loren Coleman – has written 5489 posts on this site.
Loren Coleman no longer writes for Cryptomundo. His archived posts remain here at Cryptomundo.