Posted by: Loren Coleman on March 26th, 2006
Richard Fleischer, who directed the 1954 sci-fi movie 20,000 Leagues Under the Sea, has died of natural causes at the Motion Picture and Television Hospital in Woodland Hills, California, on March 25, 2006. He was 89.
Fleischer's 20,000 Leagues Under the Sea is best remembered by cryptofiction fans for its famed scene of the giant squid attacking Captain Nemo's submarine, the Nautilaus, a major motion picture achievement of its day. The movie was based on Jules Vernes science fiction story of the same name, which was based on true reports of cryptid-style encounters with the giant squid or Kraken.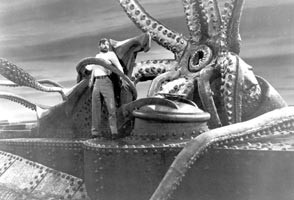 The Internet Movie Database shares this insightful bit of trivia about the movie: The climactic squid battle on the Nautilus was originally shot with a serene sunset and a calm sea. Director Richard Fleischer was troubled by the look of it because the cams and gears that operated the squid could easily be seen, making it look obviously fake. Walt Disney visited the set one day and Fleischer told him about the problem. Disney came up with the idea of having the squid battle take place during a fierce storm (another story is that it was actually screenwriter Earl Felton who came up with the idea). The scene was reshot that way and is considered by many to be the highlight of the film.
**** Famous quotation from the film. Professor Pierre Aronnax, narrator: A strange twilight world opened up before me, and I felt as the first man to set foot on another planet, an intruder in this mystic garden of the deep. ****
Besides Walt Disney Studios' 20,000 Leagues Under the Sea, Fleischer is most often remembered for The Boston Strangler, (1968); Fantastic Voyage (1966): and Tora! Tora! Tora! (1970).
A quiet but firm director, Richard Fleischer never achieved the recognition of his more celebrated contemporaries, but his name was on an extensive range of well-known movies, including The Vikings (1958); Barabbas (1962); Doctor Dolittle (1967); Che! (1969); The New Centurions (1972); Soylent Green (1973); Mr. Majestyk (1974); Mandingo (1975); Conan the Destroyer (1984) and Red Sonja (1985).
A complete obituary was published in the Los Angeles Daily News.
Loren Coleman – has written 5489 posts on this site.
Loren Coleman no longer writes for Cryptomundo. His archived posts remain here at Cryptomundo.