Posted by: Loren Coleman on April 30th, 2006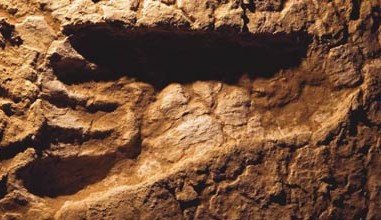 London's The Sunday Times on April 30, 2006, carries the above remarkable photograph by Michael Amendolia.
This one is from a series of fossil tracks of Pleistocene hominoids from 20,000 B.C., found recently near the Willandra Lakes, New South Wales, Australia. Steve Webb, of Bond University, Queensland, and Mary Pappin Jr, a 26-year-old member of the local Mutthi Mutthi tribe discovered the first of what would be 450 more humanlike tracks, as well as what appear to be spear holes in the ground and the tracks of kangaroos and emus. This is perhaps only an eighth of the total, the rest still covered by dunes, but it is already the largest collection of Ice Age footprints discovered anywhere in the world.
The article in the Times notes:
The footprints vary in length from 6in to nearly 1ft; the smallest feet probably belonged to a child standing 3ft 5in high. The largest two group members, with feet of UK size 12 and 10, were about 6ft 6in and 6ft 4in tall, their impressive height corroborated by skeleton remains from a similar period, also discovered near the lakes. The distances between the footprints gave the archeologists the lengths of the strides taken, and by combining this with estimated leg lengths, they calculated speed – a 2mph dawdle for the child, impressive sprints by the adults. The prints are so well preserved that they contain enough information to confirm these paces: the toes of the fastest men are spread apart, to gain purchase on the slippery mud.
One curious set of footprints appears to have been made by a one-legged man. It is unlikely that someone would have survived an amputation in this hunter-gatherer society, so some archeologists suggest he was playing a hopping game with a child, whose smaller footprints appear alongside. Others think he may have had one leg in a boat, propelling himself along with the other through shallow water.
The only comparable footprints found before are of Neandertals from the caves of Europe, below.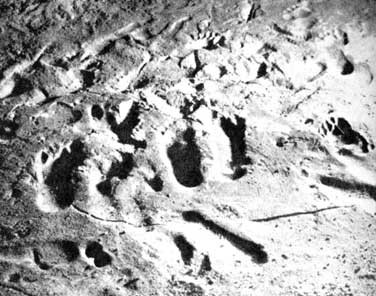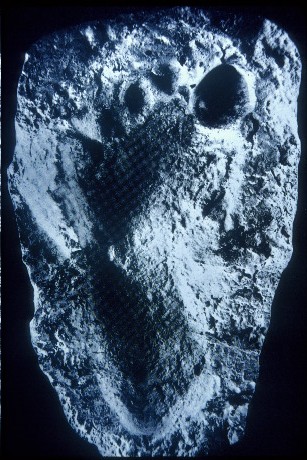 Loren Coleman – has written 5489 posts on this site.
Loren Coleman no longer writes for Cryptomundo. His archived posts remain here at Cryptomundo.