Posted by: Loren Coleman on June 20th, 2006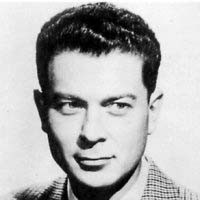 Arthur Franz, a character actor whose voice will forever be remembered as the narrator of The Legend of Loch Ness, died at St. John's Hospital in Oxnard, California, of heart failure and emphysema, on June 17, 2006, at the age of 86. The film was a 1976 documentary on the famed Scottish Lake Monsters, Nessie. Franz was earlier best known for his role in Invaders from Mars (1953). Franz, who lived in New Zealand until the last month or so, had been in failing health for some time and wanted to spend his remaining days in California.
Franz also played the cryptozoological equal to Dr. Jekyll and Mr. Hyde.
Franz, as Dunsfield University's paleontologist Professor Donald Blake in Monster on the Campus (director Jack Arnold, 1958), receives a coelacanth shipment, haphazardly packed in ice. The blood from the "prehistoric fish" enters his blood stream through some cuts from mishandling the species (hey, who puts their hand in the mouth of a specimen to move it?). Next, Franz's professor turns into a violent Neanderthal (old spelling).
The roaming transformations take on a cryptozoological life of their own, being locally called the "The Beast of Dunsfield." You can imagine how this movie ends.
An excellent analysis of Monster on the Campus is located here.
Born February 29, 1920 in Perth Amboy, New Jersey, Franz had a steady career in films and television including the 1957 movie Hellcats of the Navy, which also featured Ronald Reagan and his wife, Nancy Davis.
Besides Invaders from Mars (1953), Franz was also seen in Abbott and Costello Meet the Invisible Man (1951) and The Unholy Wife (1957) playing a priest. In 1952′s The Sniper, Franz played a rare lead in the movie's title role as a tormented killer. In addition to films, Franz was a familiar face on American television appearing on dozens of programs including "Perry Mason," "The FBI," "The Mod Squad," "The Virginian" and "Rawhide." Franz's last film role was in That Championship Season (1982).
During World War II, Franz served as a navigator in the U.S. Army Air Forces. He was shot down over Romania and incarcerated in a POW camp, from which he escaped.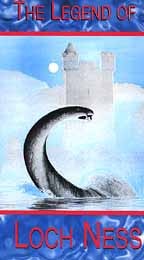 The film he narrated, The Legend of Loch Ness (1976) is a 92 minutes long nonfiction narrative that is often found in the Loch Ness area souvenir shops, as it is easily obtainable at an affordable price today. It was directed by Richard Martin and written by Christian Davis.
The documentary itself is a good archival piece of Loch Ness Monster history. The chronological treatment of the Nessie sightings is handled straightforwardly enough, with a mix of the footage of John Cobb trying to set a world speed record on the loch when killed because his boat apparently hit something (yes, you get the picture), big game hunter A.L. Weatherall discovering the fake (read "hippo") Nessie footprints, and Tim Dinsdale's 1960 classic Nessie's back footage.
Weak points are the talking heads, the "experts" trying to come up with theories to explain Nessie, and the fluff footage of Komodo dragon scenes and the ever-present coelacanth. Perhaps in 1976 those were remarkable segments, but they look old and over-used today. Also having narrator Franz promise early in the film that actual underwater footage of the Monster will be shown at the end of the film is the big tease. When finally shown, sorry for the spoiler, it merely seems to be no more than an eel swimming underwater.
If for nothing more, The Legend of Loch Ness has historically significant footage that preserves the days of The Loch Ness Investigation Bureau dropping a small submarine and a sonar-triggered camera into the loch near Urquhart castle and its underwater caverns. For that alone, this documentary is important.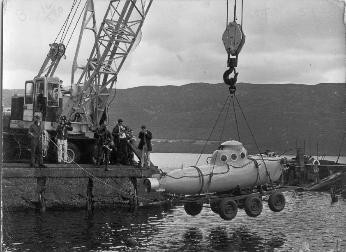 Loren Coleman – has written 5489 posts on this site.
Loren Coleman no longer writes for Cryptomundo. His archived posts remain here at Cryptomundo.