Posted by: Loren Coleman on September 23rd, 2009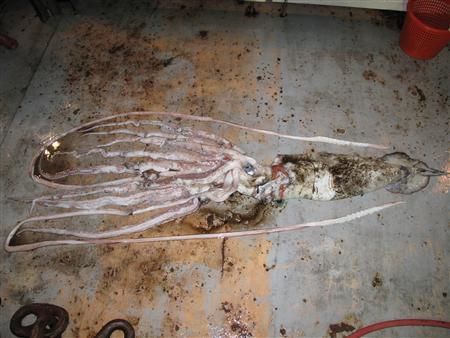 American scientists in the Gulf of Mexico unexpectedly netted a 19.5-foot (5.9-meter) giant squid off the coast of Louisiana, demonstrating how little is known about life in the deep waters of the Gulf.
Not since 1954, when an Architeuthis was found floating dead off the Mississippi Delta, has the rare species been spotted in the Gulf of Mexico.
The squid, weighing 103 pounds (46.7 kg), was caught July 30 (but was only announced this week). It was recovered in a trawl net more than 1,500 feet underwater, being pulled by a research vessel.
The specimen was sent to the Smithsonian Institution's National Museum of Natural History for further study, now one of only five from the USA in the collection.
"As the trawl net rose out of the water, I could see that we had something big in there … really big," Anthony Martinez, a marine mammal scientist for the National Oceanic and Atmospheric Administration and the chief scientist on the sperm whale research cruise, observed.
This find illustrates how little we know about what is swimming around in the deep waters of the Gulf of Mexico. This is the first time one has actually been captured during scientific research in the Gulf of Mexico.

Michael Vecchione, director of
NOAA's Fisheries Service's National
Systematics Laboratory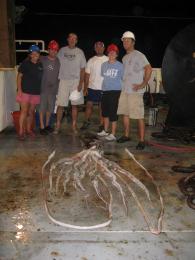 London's Telegraph (22 Sept 2009) had one of the more bizarre comparative remarks about the find: "The squid was more than two feet longer than the 2010 Ford Crown Victoria taxi edition."
For more background on giant squids in general, see here.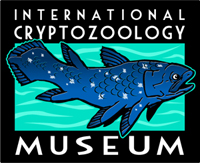 No life-size models of Architeuthis in the collection (yet), but you'll be able to see full-size replicas of a coelacanth, an immature Cadborosaurus, a Sasquatch, a FeeJee mermaid, and some forthcoming surprises! Join hundreds of other members of the cryptozoology community in supporting the International Cryptozoology Museum as it opens in downtown Portland, Maine.
Please click on the button below (not the one up top) to take you to PayPal to send in your museum donation.
If you wish to send in your donation via the mails, by way of an international money order or, for the USA, via a check (made out to "International Cryptozoology Museum") or money order, please use this snail mail address:
Loren Coleman, Director
International Cryptozoology Museum
PO Box 360
Portland, ME 04112
Thank you, and come visit the museum at 661 Congress Street, Portland, Maine 04101, beginning November 1, 2009!! This educational/scientific/natural history museum is not a 501(c)3.
Loren Coleman – has written 5489 posts on this site.
Loren Coleman no longer writes for Cryptomundo. His archived posts remain here at Cryptomundo.