Posted by: Loren Coleman on August 26th, 2008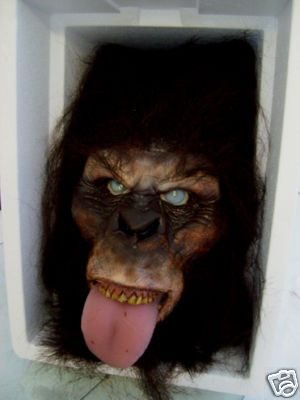 An excellent replica – hey, the exact copy – of the Georgia Bigfoot hoax head has turned up on eBay, and shall go to the highest bidder.
We'll watch this one, but considering the entire costume, including the head, went for $50,000 to the unfortunate guy in Indiana, the price of this one will be a bargain!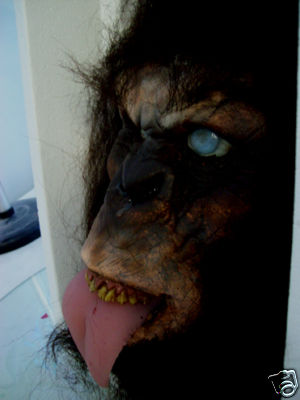 So bid away. You'll find the eBay page here.
But hurry, as of Tuesday, August 26, at 5:00 AM, there was only a couple days of bidding left. According to the description, the auction ends on "Aug-28-08 20:29:46 PDT."
Right now, the bidding is up to $67.00. [At 11 am EDT, it was up to a few cents over $100.00. At 11 pm EDT, $222.50.]
The mask is from the actual creator, who came onto Coast to Coast AM right before I appeared on the program to discuss the Georgia hoax, last "Bigfoot Friday."
By the way, I will be on Coast to Coast AM, tonight, Tuesday, for an hour, from 10-11 pm Pacific (1-2 am Eastern) to do a wrap-up and update about the Georgia hoax and the people involved.
Here is the full description of the head you can add to your collection:
Want to consider yourself "the greatest Bigfoot hunter in the world", or tell people they'll "eat their words" when you show them pictures of your "real" Bigfoot? Read on… As you may have recently heard, there were a couple of unusual fellows who claimed that they found a real bigfoot, and had it's carcass stored in a freezer. This bizarre story traveled the world, and created quite a buzz. The "bigfoot hunters" held a press conference and claimed they had the real thing to a fleet of camera crews and reporters and got coverage on CNN and news channels everywhere. As their "bigfoot" photos circulated, certain keen eyed people noticed a distinct similarity between their Bigfoot and a certain "Sasquatch" costume that was sculpted by a northern California mask maker. The mask maker was interview[ed] on Coast to Coast AM with George Noory and Inside Edition about the similarities, and the mask maker agreed, the "bigfoot hunters" were frauds, using a costume that he'd created two years earlier. Interestingly, the mask maker had no idea who the "bigfoot hunters" were, or what they were doing until he was contacted for an interview by Coast to Coast AM. After looking at the photos, the mask maker saw that the "Bigfoot Hunters" had simply added teeth and a fake tongue to his design, so by request of Inside Edition, he created a new head and added a silicone tongue and fake teeth, creating a one of a kind match for the infamous "dead bigfoot". This auction is for the head of "dead bigfoot" as seen on Inside Edition. It's a one of a kind piece that is highly collectible because of the connection with the now infamous "bigfoot hunters" and comes in it's own ice chest for display. Buyer is responsible for shipping via UPS within US. International bidders, please contact first for a custom shipping quote. Please ask any questions you may have before placing a bid. Good luck and happy hunting!
Loren Coleman – has written 5489 posts on this site.
Loren Coleman no longer writes for Cryptomundo. His archived posts remain here at Cryptomundo.