Posted by: Loren Coleman on September 5th, 2011
A 90-year old southwest Florida woman remains hospitalized after she lost her leg in an alligator attack.
Florida wildlife officials said Margaret Webb was walking near her home in Copeland, a small community east of Ft. Myers, on Wednesday, August 31, 2011, when an 8-foot alligator lunged out of a canal. The gator clamped onto Webb's leg and tried to drag her into the water.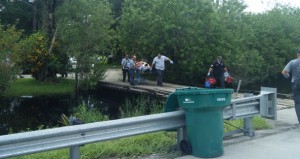 After an alligator attacked Margaret Webb of Copeland in her front-yard canal, the 90-year-old woman remained in critical condition on September 1, 2011. Photo: Caleb Morris, Ochopee Fire Control District
Webb, however, was able to hang on long enough for a man driving by to stop and help her. A passerby, Dwain Daniels III, and her son, Jim Webb, helped pull Webb to safety at her State Road 29 home. That good Samaritan tried to shoot the alligator but it got away. Daniels said he used a low-power rifle to shoot the alligator in its right eye. Wildlife officials haven't located the alligator to date.
Wildlife officials at the time said the leg was "barely attached" after the attack and had to amputated.
Officials at Lee Memorial Hospital said her condition has been upgraded from critical to serious.
Roughly five people are bitten each year in Florida by unprovoked alligators.
In 1991, Ochopee resident Clara McKay lost her right arm when an alligator attacked as she dipped a bucket in a canal behind her home.
Last year, 18-year-old Tim Delano lost his left hand to a 10-foot alligator while swimming in a Golden Gate Estates canal. Fatal attacks are less frequent.
An anniversary note: Several highly publicized alligator deadly attacks happened during the summer of 2001 in the Sunshine State. But few read of the final fatal alligator attack that year. It happened on September 11, 2001, and it was buried in the events of that day outside of Florida.
Loren Coleman – has written 5489 posts on this site.
Loren Coleman no longer writes for Cryptomundo. His archived posts remain here at Cryptomundo.