Posted by: Loren Coleman on October 22nd, 2010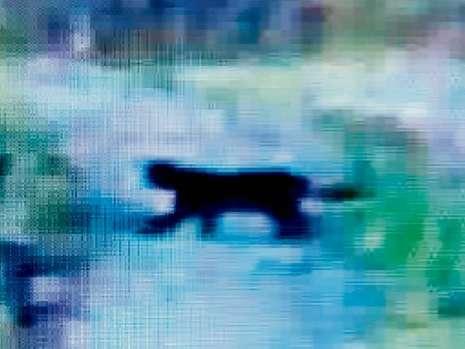 Mushroom collector Jean-Claude Gabriel (49): "At first I thought it was a great dog. But then I realized it was the big cat. It is about 90 centimeters high, 30 cm long tail."
Gabriel remained calm, whipped out his cell phone and filmed it.
The photo of the German black panther is being published in the country's newspapers this week. (Source auf Deustch.)
Due to concern and worry, officials in the western German state of Rhineland-Palatinate on October 20, 2010, gave hunters permission to shoot the black panther that has been sighted near the Belgian border for almost a year.
"We're looking into if and how we can find the animal," said Nicole Scherer, spokesperson for the license agency.
Reportedly, the government officials believe the animal is a black panther that escaped from a French animal park some time ago. No specific source, incident, or background is given for this theory.
A "large black creature" has been sighted along the Belgian border near Trier four times just since August 2010. Tranquilizing the animal is reported to not be a good option, officials said, because "it could flee in the seven minutes it takes for the drugs to take hold."
The black creature was first seen in the Belgian Ardennes region, just on the other side of the German border, about one year ago. Later similar sightings were reported in other parts of Belgium, Luxemburg, and Germany's Eifel region near Trier.
"According to the number of sightings we must take the situation seriously," said Thomas Müller, spokesperson for the Trier-Saarburg county administration, told The Local, an English-language German newspaper.
There is a long history of sightings of melanistic mystery cats in Germany, and, in context, this report fits well into those accounts without the need to "explain" it as an escapee. The excuse motif is worldwide, for in America, "black panther" reports have been "explained away" as circus train wreck and traveling zoo escapees for almost two centuries.
Loren Coleman – has written 5489 posts on this site.
Loren Coleman no longer writes for Cryptomundo. His archived posts remain here at Cryptomundo.