Posted by: Loren Coleman on January 23rd, 2008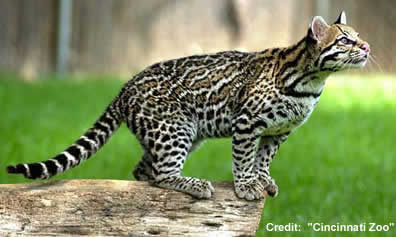 With the widespread news that actor Heath Ledger, 28, has been found dead in New York City, all other deaths have a tendency to be overlooked.
Therefore, it is important to mention the quiet announcement this week of the passing of a legendary person known within the exotic cat business, Jeannette Giacinto of Tarzana, California.
A longtime breeder and salesperson of exotic cats, Mrs. Jeannette Giacinto, known to her family and friends as Jan, died on January 6, 2008, succumbing to injuries sustained in a traffic collision on Halloween, October 31, 2007.
Mrs. Giacinto remained hospitalized from the time of the accident to her passing. An investigation revealed the collision was not her fault. She was 83.
Jan was best known for her expertise of all exotic cats such as lions, tigers and jaguars. Her big cats appeared in commercials and TV shows from the 1950s till the 1990s.
Appearances ranged from the "Howdy Doody Show" to the "Rockford Files." Smaller exotics such as servals and bobcats were taken to schools for up close and personal, show and tell presentations. Jan enjoyed teaching children about exotic felines.
Jan has sold exotic cats to celebrities like actress Tippi Hedren, the Jackson family of the Jackson Five fame, and noted R&B singer, Harry White, to name a few.
In the early 1950s, Jan was the subject of an article published in the Encyclopedia Britannica. Britannica mistakenly published her husband Joe's picture instead of Jan's with one of their ocelots. That photograph was the topic of many spirited family discussions.
Jan and Joe helped discover a young talented magician named Dirk Arthur. Today, at the Tropicana Hotel, the Dirk Arthur Magic Show performs, featuring tigers obtained with the help of Jan. The cable network, Animal Planet, filmed a documentary of Jan Giacinto at her home in Tarzana, California. A future airdate has not yet been set.
Jan Giacinto is survived by her husband, Joseph Giacinto of 65 years; two sons, Joe Jr. and Jerry; daughter, Jana; six grandchildren, and four great grandchildren, along with a host of other relatives and close friends. Jan, according to her family, will always be remembered as the lady who never lost her sweet teenage sounding voice.
A private memorial service was held in her honor on January 12, 2008, at the Pierce Brothers Mortuary, Valley Oaks Memorial Park Chapel, in Westlake Village, California.
Our thoughts to her family and friends (including all her feline friends).
Loren Coleman – has written 5489 posts on this site.
Loren Coleman no longer writes for Cryptomundo. His archived posts remain here at Cryptomundo.