Posted by: Loren Coleman on December 7th, 2009
Breaking news out of Somaliland is of two giant hairy anthropoids/pongids being sighted locally.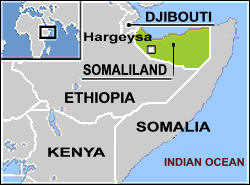 Somaliland is an autonomous region, which is regarded by all countries as being part of the Somali republic located in the Horn of Africa. Those who call the area the Republic of Somaliland consider it to be the successor state of the former British Somaliland protectorate. Having established its own local government within Somalia in 1991, the region's self-declared independence remains unrecognized by any country or international organization.
On December 7, 2009, the Somaliland Press is stating that a new species has been discovered in their country. The idea that most animals are long gone from Somaliland either by migration or the due to the civil war in the 1980s is, however, the common one.
Now, it's been reported that at least two gorillas has been discovered in mountains about 20-kms east of the town of Sheikh in Somaliland.
According to local reports, the inhabitants of the area, who have never seen a gorilla before, described the animal about the size of a small donkey and moving around by knuckle-walking. At the time of the sighting, the locals said one of the gorillas was chasing a chimpanzee.
The sighting has created fear among the people of Geed-Lookor area. Many feared the animal could attack their livestock, which is the source of livelihood to many in Somaliland, while others feared it would create health hazards.
Mr. Mohamed Adan who is a prominent expert on ancient studies, has been collecting data on the sighting of the reported species. Mr. Mohamed stated that the fear of the locals is that these animals might come to the water wells and ponds in search of water and could transmit diseases to local people and animals.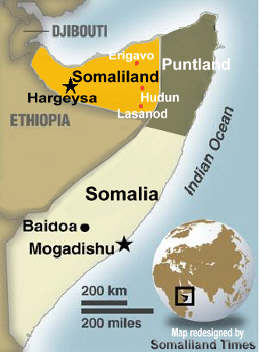 Loren Coleman – has written 5489 posts on this site.
Loren Coleman no longer writes for Cryptomundo. His archived posts remain here at Cryptomundo.