Posted by: Loren Coleman on April 22nd, 2009
I fully accept the Patterson film. [Bigfoot's loping gait is] consistent with a 500-pound biped. I've attempted to imitate it, and I really can't do it worth a damn. – Grover Krantz, 1999
Don't be surprised if you hear people talking about Grover Krantz again.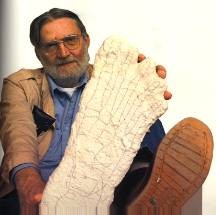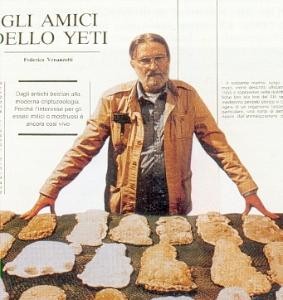 The anthropologist who wrote or edited four books, The Scientist Looks at the Sasquatch (Moscow: University Press of Idaho, 1977, with anthropologist Roderick Sprague), The Scientist Looks at the Sasquatch II (Moscow: University Press of Idaho, 1979, with Roderick Sprague), The Sasquatch and Other Unknown Hominoids (Calgary: Western Publishing, 1984, with archaeologist Vladimir Markotic) and Big Footprints (Boulder: Johnson, 1992), revised as Bigfoot Sasquatch Evidence (Seattle: Hancock House, 1999) is back.
Grover S. Krantz (1931-2002) died from pancreatic cancer on Valentine's Day, seven years ago. The always active Grover Krantz went into decline soon after he told me on December 6, 2001: "Medicine men differ as to whether I have months or years to live." Such reflected the final uphill battle that Grover faced in a life of challenges. Diane Horton, his wife, was with him constantly, to the end.
Following Krantz's wishes, Diane Horton held no local services. Grover's body, instead, was sent to the Body Farm at the University of Tennessee and then his skeleton was transferred to the Smithsonian Institution along with most of his academic materials. As he helped students in life, his skeleton and materials will be available to serious scholars in death.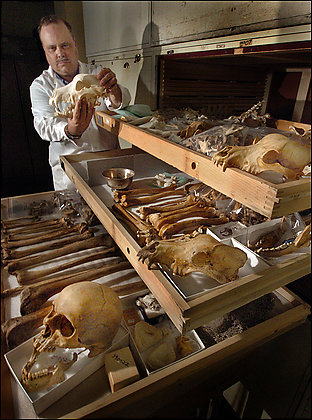 A few years ago, Smithsonian's Museum of Natural History anthropologist David Hunt is shown opening a green cabinet and pulling out a collection of dog and human bones. That was Grover Krantz in the bottom drawer, and his skull was over to the left, up front. Hunt held one of Krantz's wolfhounds, which was also in the collection, according to Krantz's wishes.
Now, in 2009, Grover's bones are on display, to capture him again, as a mirror of the following image.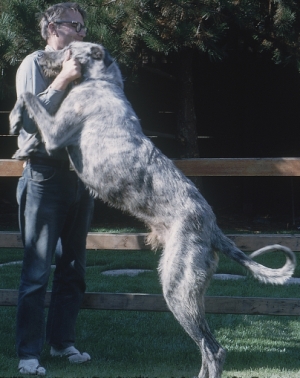 The skeleton model at the Museum of Natural History was based on the above photo of Grover Krantz, a professor of physical anthropology and student of bones at the Washington State University. "It was an outlandish wish," his wife said recently. But "he wanted his bones someplace. … He thought he would be a good teaching specimen." (Grover Krantz Papers — National Anthropological Archives.)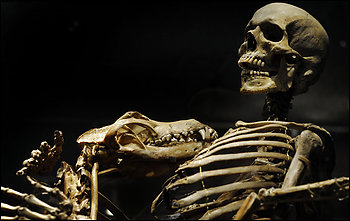 Gordon Krantz and his wolfhound, as the scholar wanted to be preserved. (Washington Post photo by Linda Davidson.)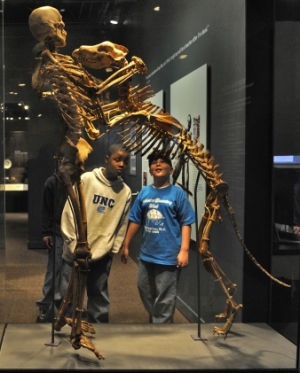 Fifth-graders from Charlotte, N.C., take in the display at "Written in Bone," a forensic anthropology study, at the Smithsonian Museum of Natural History. The skeletons of professor Grover Krantz and his beloved Irish wolfhound, Clyde, are the realization of Krantz's ultimate wish. (Washington Post photo by Linda Davidson.)
To read the full story of the Krantz display, see: "Professor's dying wish granted at Natural History Museum exhibit," by Michael E. Ruane, The Washington Post.
Keep research happening…
Loren Coleman – has written 5489 posts on this site.
Loren Coleman no longer writes for Cryptomundo. His archived posts remain here at Cryptomundo.