Posted by: Loren Coleman on May 12th, 2006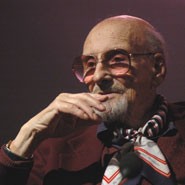 Just yesterday, I wrote about the new Abominable Snowman movie being developed, based on the old Hammer film, Abominable Snowman of the Himalayas. Moments ago, I learned the director of that movie, Val Guest has died. He was 94.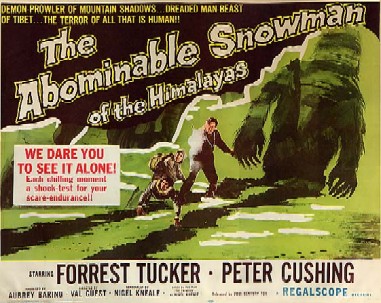 Click image for a larger version
Variety is reporting late on May 12, 2006: "Cult film writer, director and producer Val Guest, known for his eclectic career emphasizing British sci fi pics, died Wednesday, May 10 in Palm Springs, California."
Val Guest will be most remembered in cryptozoological circles for his uncredited writing and outstanding directing of Abominable Snowman of the Himalayas (1957), and for directing and writing the screenplay to When Dinosaurs Ruled the Earth (1970). Abominable Snowman of the Himalayas was a unique Yeti film for its time, actually basing part of the plot on a highly fictionalized version of the events then occurring in Nepal, during the Tom Slick expeditions. In Guest's movie, the character "Tom Friend" played by Forrest Tucker, was loosely based on Tom Slick.
Among science fiction fans and Forteans, Guest will be recalled for his work as the director of The Quatermass Experiment (1955), Quatermass II (1957), and The Day the Earth Caught Fire (1961).
Among the general movie-going public, Val Guest will forever be most associated with the James Bond spoof, Casino Royale (1967).
Loren Coleman – has written 5489 posts on this site.
Loren Coleman no longer writes for Cryptomundo. His archived posts remain here at Cryptomundo.