Posted by: Loren Coleman on November 29th, 2008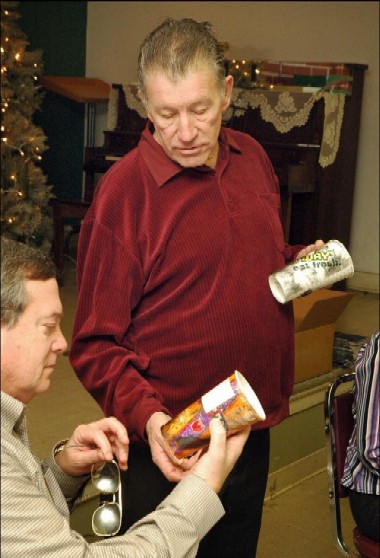 Charles Hallmark once spoke at the Ada Rotary Club meeting at the Aldridge Hotel on Wednesday, December 28, 2005. Photograph by Richard R. Barron. The Ada Evening News.
Charles Elbert Hallmark, 68, of Sulphur, Oklahoma, a well-known Bigfoot researcher, passed away on November 24, 2008. His family will have a private service.
Hallmark worked for many years trying to prove Bigfoot's existence.
In a 2004 article, standing with a reporter in the Chickasaw National Park, Hallmark was quoted as saying:
"A lot of Bigfoot in here. Some little Bigfoot prints right here where I'm standing. Right here, all around me."
From footprints to photographs, Hallmark and his friends collected plenty of evidence down through the years. Hallmark claimed he had several close encounters.
"No muzzle, no tail. Just boing, boing, boing. My first impression was to get out there and chase him through the woods to get a better view of him and then I thought, that's a juvenile. That means mamma is not far away and I'd hate to get in an arm wrestling match with a female monkey that weighs 600 pounds because I don't think I would win," he told a reporter.
Hallmark had felt he found his most compelling evidence in a series of unusually large fingerprints.
"My fingerprint, it might be half the size of that. This cup is just covered with finger prints," he said once.
How did he collect them? Bait and wait, actually.
"We used apples, we used bananas, and we used Snickers candy bars. Chocolate covered cookies were taken and appreciated. Burritos were wonderful — and the more jalapeno peppers the more they seemed to love it. Cheeseburgers were food from the gods! (However, the juvenile took the jalapeno peppers off and piled them neatly)."
Then, Hallmark covered the bait with some microwave popcorn and hid it in a trash can with a large rock on top. That kept the smaller animals out; then he waited.
"They'll handle that greasy popcorn bag, then handle the cup. It's as simple as 'A B C.' A fingerprint is something [that] can't be faked," he said. "Science doesn't want to admit that the missing link is not missing. It's out there, running around beside us right now."
Hallmark's work was highlighted here at Cryptomundo, in December 2005.
The Ada Evening News had reported on a speaking engagement by the Bigfoot "expert" Dr. Charles Hallmark.
Craig Woolheater saw copies of the fingerprints, and was present when primate fingerprint expert Jimmy Chilcutt discussed and dismissed the "fingerprints" at the Southern Crypto Conference in 2003 in Conroe, Texas. Chilcutt said they were nothing more than human palmprints that had been erased around the edges to resemble oversized fingerprints.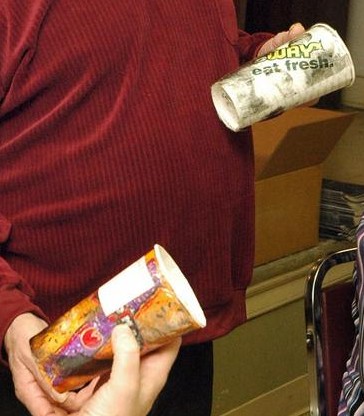 Enlargement of cup detail.
Charles Hallmark was controversial, colorful, and undeniably a member of the Okie Bigfoot community. We mourn his death and send our condolences to his family.
(Our appreciation to DWL for the initial obit info.)
Loren Coleman – has written 5489 posts on this site.
Loren Coleman no longer writes for Cryptomundo. His archived posts remain here at Cryptomundo.