Posted by: Loren Coleman on January 20th, 2009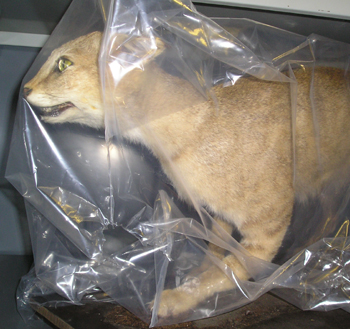 Darren Naish writes:
Over the weekend I had a mystery cat encounter of my own: I got to see and photograph the famous Hayling Island Jungle cat.
Naish, at his site, notes:
One of the neatest things in the collection (from my entirely tetrapodocentric perspective of course): it's the Hayling Island Jungle cat, here being held [image below] by senior keeper of natural sciences Dr Chris Palmer. The Jungle cat or Swamp cat Felis chaus is an Old World felid that occurs from Egypt in the west to southern China in the east. It's not native to Europe, at least not nowadays. So, when one was run over and killed by a car on Hayling Island, Hampshire, in July 1988, most people were surprised. Another dead one was found in 1989 near Ludlow, Shropshire: back injuries and an underweight condition led to the suggestion that it had starved after being injured by a car (Shuker 1995a, b). British cryptozoologist Karl Shuker now owns this specimen.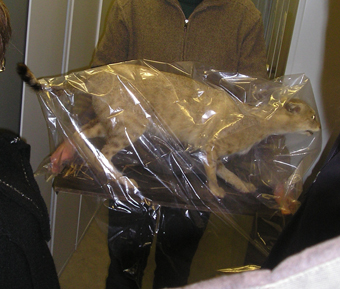 Naish's Tetrapod Zoology site considers the question, "What are Jungle cats doing at large in the UK?"
What cryptid cats are in your collection? What Mystery Cat specimens exist around the world in private and public museums?
Loren Coleman – has written 5489 posts on this site.
Loren Coleman no longer writes for Cryptomundo. His archived posts remain here at Cryptomundo.