Posted by: Loren Coleman on May 23rd, 2008

In an elegantly simple, but insightful concluding paragraph, blogsquatcher may have summed up the feelings overwhelming many of us as this turmoil-filled week draws to an end.
Has he illuminated the heart of darkness danger in what is unfolding within the subfield of P/G footage hominology with these words?
Blogsquatcher wrote:
You'll ultimately have to decide for yourselves how you feel about [M. K. Davis' speculations]. I will leave you with this thought though — for more than 40 years, nothing has been able to diminish the impact of the P/G Film. But maybe this grand conspiracy theory will.
You have read on Cryptomundo the various posts about the M. K. Davis claims, speculations, and observations, some noted as facts by him, presented at Don Keating's Ohio Bigfoot Conference. These comments were given during the last weekend, as well as earlier to others, publicly to large and small groups, indeed, comments that have spread far and wide on the Internet.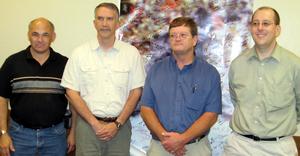 From left to right – in Ohio last weekend – Don Keating, Ohio Bigfoot group director and host of the Ohio Bigfoot conference; Jeff Meldrum, professor and Sasquatch book author; M. K. Davis, Bigfoot film analyst; and Eric Altman, Pennsylvania Bigfoot group director.
Recent postings on the subject of Davis statements and some history include:
M. K. Davis: Bigfoot Has Ponytail
Shooting Incident At Bluff Creek?
To get all sides of the story, I asked Bigfooter M. K. Davis the following questions earlier on Wednesday, but he says he had computer problems and could not answer until late yesterday. Here are my questions:
"People other than me are saying you proposed this theory. Are you denying this? Did you say or not say that Bigfoot had been shot? Why are people from all across the country saying you have a theory that Patty was shot in the thigh, and showed the exact spot during your presentation?
Can you send me a jpeg showing me the braids? The ponytail?"
Here is M. K. Davis' reply:
Regarding the leg anomaly. This anomaly shows clearly on the exact spot where the famous "bulge" that is sometimes called a hernia is. It appears in the next adjacent frame. It is a round spot, surrounded by a concentric circle with the hair around it moved back and away. This is found on the very best images from the film that exist. I did not call it a gunshot wound. When asked if she had been shot, my exact words were "I cannot say that, I can only say that it is a round concentric circle with a spot in the middle." I did my job in reporting that such was on the film. It is neither unexpected nor is it wrong for people to speculate on it, if it is made known that it is just that, speculation. It is a simple fact that could appear within the framework of a lot of different scenarios. I welcome them all.

Bob Gimlin is a personal friend of mine, and an intelligent man. I know that he understands that brainstorming sessions require the inclusion of all possible scenarios, with most eventually dismissed, and will not take such personally. I didn't make the spot, and I'm as interested as anyone as to what it is. This is an animated gif. M. K. Davis, May 22, 2008, 3:01 PM Eastern.
He also sent along the following images of the leg hernia (I had seen something similar before), but did not forward any jpegs or answers clarifying or addressing the speculation about braids and a ponytail.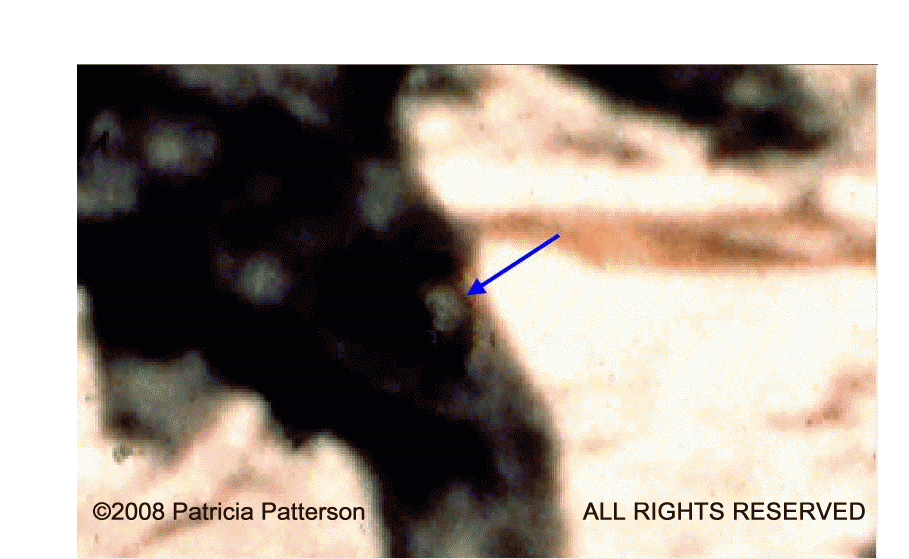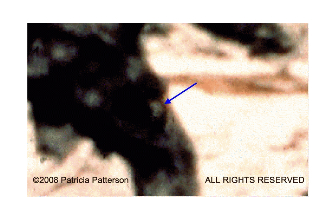 Then I ask:
"Are your words quotable?"
Davis replied:
The words are quotable. M. K. Davis, May 22, 2008, 5:09 PM Eastern.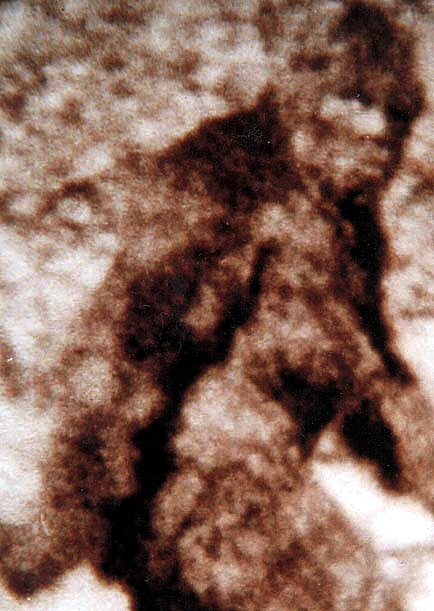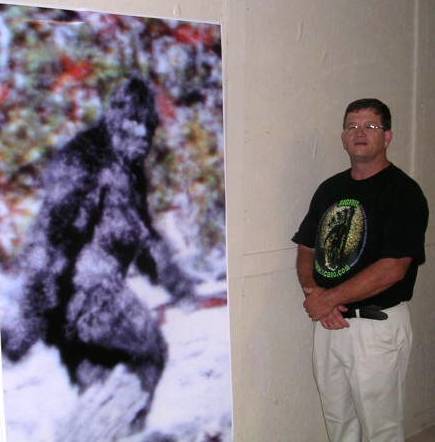 Loren Coleman – has written 5489 posts on this site.
Loren Coleman no longer writes for Cryptomundo. His archived posts remain here at Cryptomundo.