Posted by: Loren Coleman on December 18th, 2007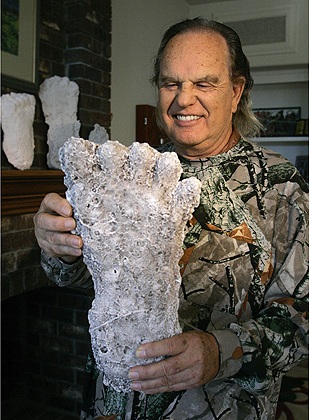 Bigfoot Field Researchers Organization chief sponsor Wally Hersom of San Juan Capistrano with a Bigfoot cast from Walla Walla, Washington State. The 15-inch left foot print was discovered May 10, 1986. Taken at his home. Both Matt Moneymaker and Hersom live in San Juan Capistrano, California. Photo: Cindy Yamanaka, The Orange Country Register.
Skeptic Benjamin Radford's comment:
I hope this will quell the Bigfoot apologists who say that the reason there's no hard evidence for Bigfoot is that no one is funding the research.Benjamin Radford
Pondering the life of another wealthy individual who had decided to put his money behind the search for Bigfoot and Yeti in the late 1950s and early 1960s, I once wrote:
Thomas Baker Slick, Jr., was raised in a family atmosphere that encouraged him to explore the cutting edge of many subjects. He was willing to take risks, tell people what he really thought, and choose a different path from others. He had the passion and money to pursue things that made him curious, and he did. Yet his uniqueness was sometimes misunderstood. Such was the life of a revolutionary, a pioneer.Loren Coleman
Loren Coleman – has written 5489 posts on this site.
Loren Coleman no longer writes for Cryptomundo. His archived posts remain here at Cryptomundo.