Posted by: Loren Coleman on August 19th, 2007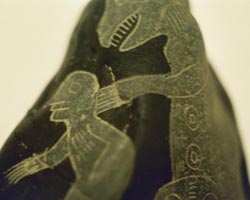 Dinosaurs and men alive at the same time? I don't really want to get into that discussion, but I want to alert you to the fact a "piece" of the evidence (pro or con) used by some to support their point of view in the debate, the Ica Stones, may be missing or damaged.
The Peruvian earthquake of August 15, 2007, has resulted in some worry for them. Ica, Peru, was one of the hardest hit areas. I reached people usually in contact with those who keep the Ica Stone safe and/or at the Ica Stone Museum. Here's the message they created in response: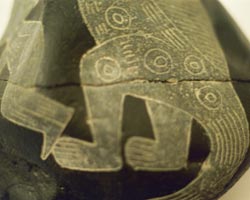 *Peru Quake Update*

August 19, 2007

Greetings,

On Wednesday, August 15, Peru sustained a massive 8.0-magnitude megathrust earthquake that rocked the southern coastal region near Ica, a city of 650,000 residents, killing hundreds, and leaving many feared trapped in the rubble. "We don't have lights, water, and communications. Most houses have fallen. Churches, stores, hotels —everything is destroyed," cried Pisco Mayor Juan Mendoza.

* * *

We have been unable to reach our friends, the family of Eugenia Cabrera (Ica Stone Museum), and have no word as to their safety or the condition of the Ica Stone Museum, but we will update all news on our website at www.labyrinthina.com. The situation in the Ica/Paracus/Pisco area has become desperate, and aid is needed IMMEDIATELY. Thousands have been left without homes and are currently sleeping in the streets. Problems such as a lack of food and water have worsened the situation. Everything is needed from cots to shovels, from wheelbarrows to water, from blood to blankets.

Please consider a cash donation to one of the many charitable relief organizations of your choice, or refer to the partial list of Peruvian agencies and personal grass root endeavors, [noted here].

May God Bless and Protect our many dear Friends in Peru.

With blessings,Kathy Doore, www.labyrinthina.com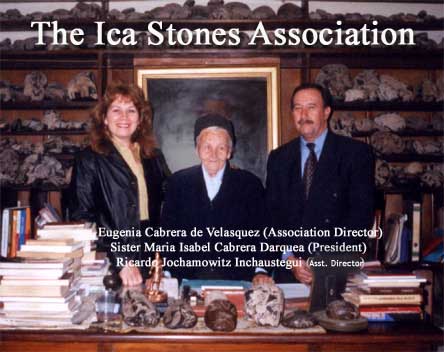 The Ica Stones are a collection of andesite stones allegedly discovered in a cave near Ica, Peru. The Ica stones were popularized by Dr. Javier Cabrera, a Peruvian medical doctor who received an engraved stone as a birthday gift. In thirty-five years, he has collected over 15,000 engraved stones.
The stones show many things, from attacking dinosaurs to advanced technology, from maps to pornography.
But are they real? Tourist art? Gaffs? Or a record of ancient times?
In 1977, during the BBC documentary Pathway to the Gods, Basilio Uschuya produced a "genuine" Ica stone with a dentist's drill and claimed to produce the patina by baking a stone in cow dung. In 1996, another BBC documentary was released with a skeptical analysis of the stones.
About ten years ago, the new attention to the Ica Stones prompted the authorities of Peru to arrest Basilio Uschuya.
Under Peruvian law, it is illegal to sell archaeological discoveries. Basilio recanted that he had found them and instead claimed that they were hoaxes he and his wife created. He was not punished, and continued to sell the stones to tourists as trinkets. He confirmed that he had forged them during an interview with Erich von Däniken, but recanted that claim during a later interview with a German journalist.
Spanish investigator Vicente Paris, after four years of investigation, offered in 1998 new evidence that supports that the stones are a hoax. Among the proofs presented by this investigator were microphotographs of the stones that showed traces of modern paints and sandpaper.
Whether real or fraud, their safety is important if further, modern analysis of the Ica Stones are to take place.
Replicas of a few of the Ica Stones.
Loren Coleman – has written 5489 posts on this site.
Loren Coleman no longer writes for Cryptomundo. His archived posts remain here at Cryptomundo.