Posted by: Loren Coleman on June 10th, 2006
Don't forget to peek in on the giant Bigfoot Rendevous at Idaho State Universtity next weekend. The lineup of speakers is top-notch.
The graphic arts promotion by Falling Rock Production has been outstanding.
Meanwhile, here's one version of the Pocatello area's oldest Bigfoot story.
Marion Daily Star, Marion, Ohio
January 28, 1902
EIGHT FOOT WILD MAN SCARES PARTY OF SKATERS
Salt Lake News Has a Live Correspondent at Pocatello.
Salt Lake, Utah, Jan. 28. — The News' Pocatello, Idaho, correspondent is responsible for the story of the appearance recently in Chesterfield, Bannock county, of a wild man eight feet in height and covered with hair. He appeared among a party of skaters flourishing a huge club and giving vent to a series of yells. The skaters fled and the wild man disappeared in the woods. Measurements of his footprints, [according to] the correspondent, showed them to be over twenty inches in length and about seven inches wide. A searching party is after the alleged wild man.
Thanks to Jerome Clark for the news item.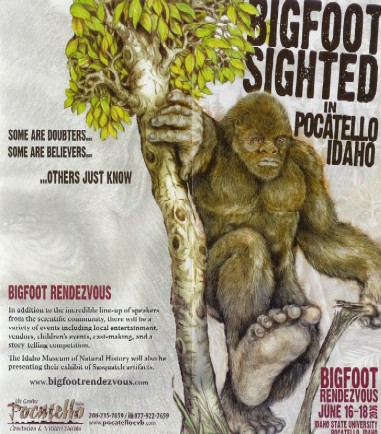 Click on image for full-size version
Loren Coleman – has written 5489 posts on this site.
Loren Coleman no longer writes for Cryptomundo. His archived posts remain here at Cryptomundo.