Posted by: Loren Coleman on April 4th, 2010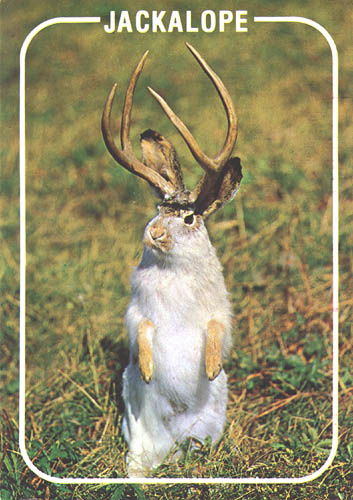 Jackalopes may be real?
The San Francisco Chronicle posted an interesting article in December 2009, by John Flinn, telling of the factual background behind jackalopes. Here's some highlights of his discussion:
John Colter, a member of the Lewis and Clark expedition, is the first American to claim a jackalope sighting. His announcement drew mostly bemused shrugs. Compared with his tall tales of spouting geysers and bubbling mud pots along the Yellowstone River, a horned rabbit wasn't exactly front-page news.

The creature probably would have bunny-hopped off into the mists of mythology had it not been for Douglas Herrick, a young rancher in Douglas, Wyo., with a mail-order taxidermy degree.
Doug and Ralph Herrick turned their faux taxidermy item, a "rabbit with horns" into a massive industry, shipping, for example, 1,200 a year to Wall Drug stores.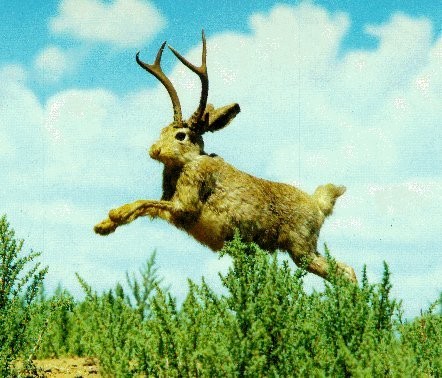 Flinn continues,
But is the jackalope really a creature of mythology? Surprisingly, wildlife biologists say no.

Sightings of a jackalope-like creature have been reported in Europe for centuries. In Bavaria it was known as a wolpertinger; in Austria they called it a raurackl; in Switzerland it was a dillsapp.

A woodcut picture of a hare with horns appeared as far back as 1575 in a zoology treatise titled "Animalia Qvadrvpedia et Reptilia (Terra)." Another showed up in the Encyclopedie Methodique, a popular, 206-volume French encyclopedia published between 1782 and 1832.

On a hunting trip in the 1930s in the western United States, Dr. Richard Shope of Rockefeller University heard a friend talk of seeing rabbits sporting horns. He asked his friend to send him some of these horns, which under the microscope turned out to be warts that formed horn-like protrusions on the hare's head.

Shope and other scientists eventually tracked the cause to a virus called papillomavirus, which in humans causes cervical cancer. This set researchers down the long path that in 2006 led to the cervical cancer vaccine approved by the Food and Drug Administration.
Read more of Flinn's article here.
The Wolpertinger of Bavaria has been seen as the cultural precursor of the Jackalope, and I am still in pursuit of one of the taxidermy examples for the museum.

Wolpertingers, supposedly from the Black Forest of Bavaria, were constructed from the body of a hare with the horns of a roebuck, the wings of a jay and the feet of a duck.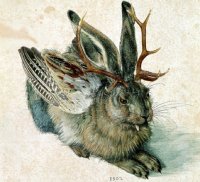 The origins of the Wolpertinger reports, supposedly, are diseased hares having the Shope Papilloma virus producing horny, cancerous growths on the animal's head and body, giving it the appearance of having antlers.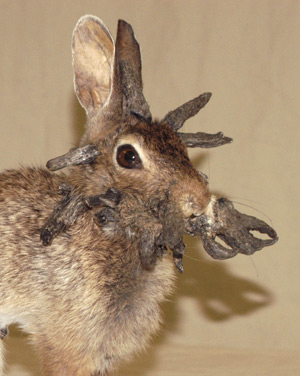 Was the virus – see the effects above – the cause of the inspiration for the Wolpertinger and the Jackalope?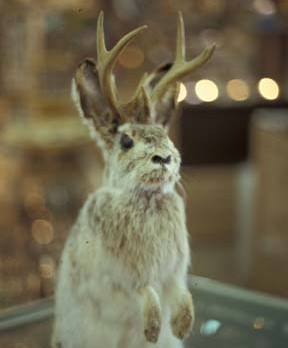 Loren Coleman – has written 5489 posts on this site.
Loren Coleman no longer writes for Cryptomundo. His archived posts remain here at Cryptomundo.