Posted by: Loren Coleman on November 5th, 2007
This side-by-side comparison was posted on Boing Boing, and referred back to When A Mangy Bear Is Just A Mangy Bear, after I posted the mangy bear photo here. The Boing Boing comparative exercise gave a direct visual to ponder, regarding the thoughts that the much-discussed "Jacobs young sasquatch" is nothing more than a bear.
Now, here is an added, elementary step to this comparative analysis.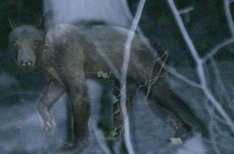 Cryptomundo correspondent fallofrain sends along the above photograph with this explanation of what was done:
In Photoshop, I flopped the photo of the mangy bear onto the Jacobs photo. Even taking into account the different positions of the rear legs and the fact that the scale may be off, the proportions are almost identical.fallofrain
It should also be pointed out that other enhancements are showing up across the internet. Some are being posted to show more "fur" on the body of this animal (supposedly in support of the Bigfoot origins of the picture), but actually what is beginning to become visible are clear ears on this trailcam bear.
Loren Coleman – has written 5489 posts on this site.
Loren Coleman no longer writes for Cryptomundo. His archived posts remain here at Cryptomundo.