Posted by: Loren Coleman on September 28th, 2006
Due to dogged diligence, indepth investigative inquiries, and long hours in pursue of the truth, Cryptomundo brings you today the identity of the mystery cryptozoologist pictured all year by the North American media, next to the now famous Johor Bigfoot cast.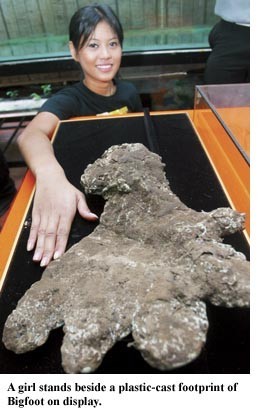 You remember the photo, shown above? The cast was found in February 2006, at Kampung Temenin Lama, Kota Tinggi. This specific image of the track cast shows a curious individual pointing out this piece of alleged Bigfoot evidence found by the Seekers, SPI, and the Sci-Fi filmmakers. She was not identified in the media reports at the time. But Cryptomundo readers demanded to know her name. More people have emailed me wishing to know more about this person than, well, those expressing interest in a wide range of other items discussed here.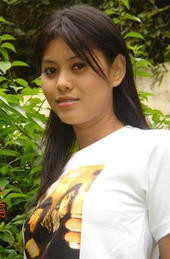 Photograph courtesy of Sean Ang.
Now thanks to information from Ms. Jan McGirk, Mr. Neil Mandt, Mr. Joshua Gates, Mr. Sean Ang, Dr. Vincent Chow, and Mr. Peter Loh, I am certain as to this person's identity.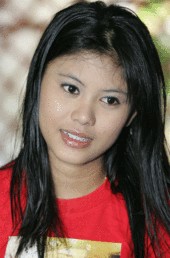 Photograph courtesy of Sean Ang.
The female cryptozoologist is one of the "Seekers" (a group of three young women with a TV show in Kuala Lumpur, Malaysia by the same name). She is known as Adeek. Her full name is Siri Nadhirah Binti Mohd Zhin, and she works with the Seekers show as a producer, videographer, researcher and personality.
The photographs on the page today are all of Adeek.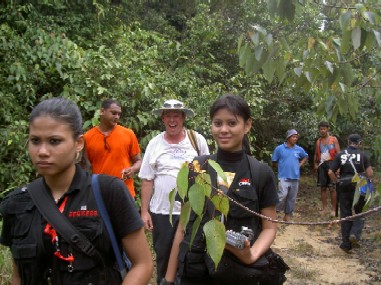 This image taken during the February trek shows Adeek, as well as others. The man shown in the orange shirt was the security guard hired by the Mandt Bros production. The individual in the hat is Tony Burke, an Aussie tracker. Photograph courtesy of Jan McGirk, and it may be clicked to enlarge.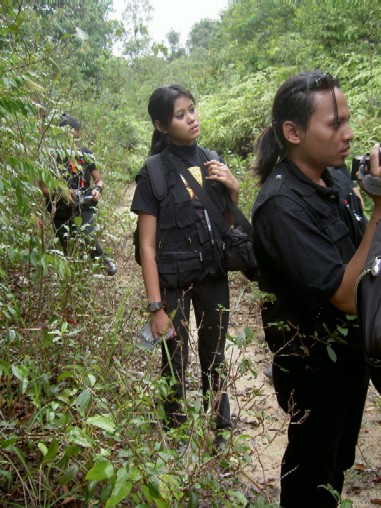 Another photograph of Adeek courtesy of Jan McGirk, which also may be clicked to enlarge. It appears she is wearing, at least, a tee-shirt that seems similar to the one she was wearing in the Johor Bigfoot cast photo.
(This is the identity of the individual as far as discovered. Corrections will be made here if any are forthcoming.)
Loren Coleman – has written 5489 posts on this site.
Loren Coleman no longer writes for Cryptomundo. His archived posts remain here at Cryptomundo.