Posted by: Loren Coleman on May 23rd, 2011
On Sunday, May 22, 2011, at 6:45 am, a tornado a mile-wide destroyed Joplin, Missouri, killing many people. A total of 116 people are confirmed dead as a result of Sunday's tornado in Joplin, Missouri, city manager Mark Rohr says. That means the death toll from the Joplin twister is tied for the second highest in the United States since the National Weather Service began keeping such tornado records in 1950. Our heartfelt concern goes out to the folks there.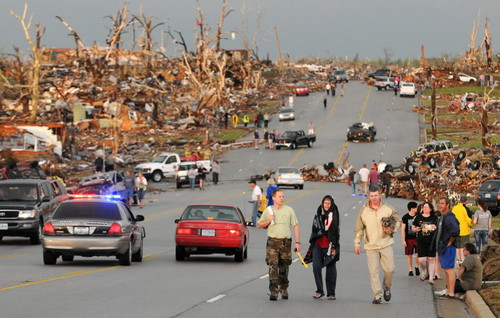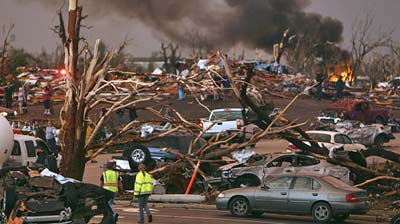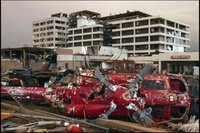 Some of us recall the area for its 1975 sighting of a Bigfoot near Joplin:
Bigfoot Seen South of Joplin
High school student Steve McFall told Sheriff Joe Abramovitz that he saw an ape-like creature, big and hairy that jumped in front of his car forcing him in the ditch. Described the creature as 7 feet tall, walked like man, had light colored spots on its face, red eyes and smelled like rotting eggs. The area is wooded. A search on Friday night found nothing but there have been other reports by residents of such a monster in the same area. UPI wire report.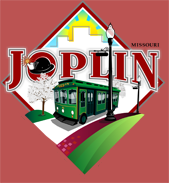 Sunday, September 28, 1975 — JOPLIN, Missouri. (UPI) – Sheriff's deputies and volunteers searched a wooded area near Joplin Friday night [September 26, 1975] for a large, hairy creature with an odor of rotten eggs.
"I'm skeptical, but we'll keep investigating," said sheriff Joe Abramovitz. Steve McFall, 17, reported an ape-like creature loomed in front of the car he was driving Thursday [September 25, 1975], forcing him into a ditch.
Other residents of the area claim they have seen the "ape," but Abramovitz said his deputies have been unable to find "any physical evidence to support the stories."
McFall described the creature as "about seven feet tall, hairy and walking like a man and with light colored spots on the face and red glowing eyes." He said it had an odor "like rotten eggs."
Cincinnati Enquirer, September 28, 1975
Thanks to Ron Schaffner.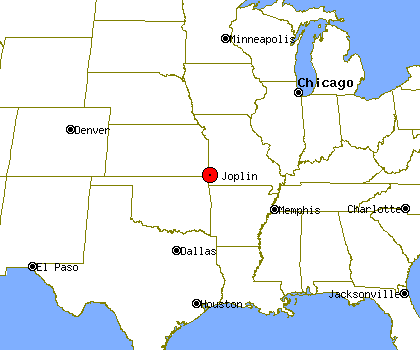 Joplin, in the Ozarks, is a city in southern Jasper County and northern Newton County in the southwestern corner of the U.S. state of Missouri. Joplin is the largest city in Jasper County, though it is not the county seat. As of the 2010 census, the city population was 50,150. Joplin is located just to the north of Highway I-44, its passage to the west into Oklahoma. In recent years the settlements of Joplin have spread north to about Webb City. U.S. Route 66 passes through Joplin. Joplin is also mentioned in the song Route 66 when sung by Chuck Berry. The city is drained by Joplin Creek, Turkey Creek, Silver Creek and Shoal Creek. Joplin is the center of what is regionally known as the Four State Area: Oklahoma, Arkansas, Missouri, and Kansas.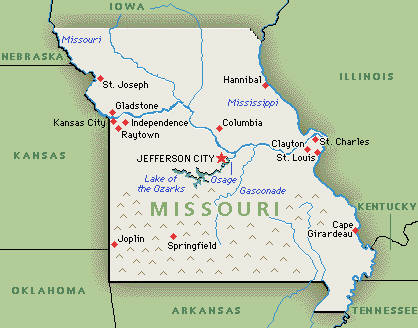 The Missouri Monster, "Momo," was well-known from northeast of here, during 1971-1972, along the River Road area south of St. Louis. Joplin is due north of the Fouke, Arkansas sighting region of the "Fouke Monster," a swamp ape also reported mostly during the 1970s. Details about the Momo sightings can be found on pages 50-51 of The Field Guide to Bigfoot and Other Mystery Primates.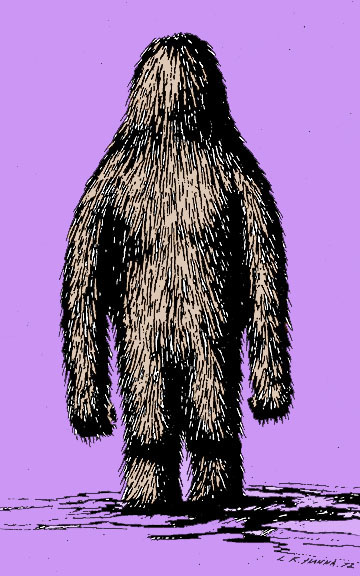 Loren Coleman – has written 5489 posts on this site.
Loren Coleman no longer writes for Cryptomundo. His archived posts remain here at Cryptomundo.