Posted by: Loren Coleman on August 24th, 2007
Congratulations to Karl Shuker!

Dr. Karl P. N. Shuker is a zoologist with a lifelong interest in cryptozoology and other animal-related anomalies. He studied zoology at the University of Leeds and obtained a Ph.D. in zoology and comparative physiology at the University of Birmingham. Due to the complications of a life that could have been hindered by a chronic form of diabetes, Shuker has continued on with his interest and passion for new animals through the written word and his documentary appearances in a dynamic fashion.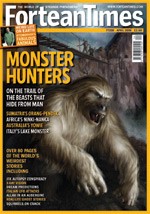 Shuker has now been honored for his efforts with the naming of a new animal – or as the Fortean Times mentions in their dispatch, "Shuker's Microscopic Namesake," a very, very small one.
As FT notes: "The bestower of this rare honour is Prof. Reinhardt Møbjerg Kristensen – discoverer of the lorciferans, an entirely new phyla of microscopic multicellular animals – who has christened one of them Pliciloricus shukeri (pictured above top)."
The exact citation for Karl Shuker's namesake, the bibliographical reference to the paper in which its description appears is as follows: Iben Heiner and Reinhardt Møbjerg Kristensen. 2005. "Two new species of the genus Pliciloricus (Loricifera, Pliciloricidae) from the Faroe Bank, North Atlantic." Zoologischer Anzeiger, vol.243, no.3. pp121-138.
Outstanding! What an honor for Karl and cryptozoology to be recognized in this fashion.
Loren Coleman – has written 5489 posts on this site.
Loren Coleman no longer writes for Cryptomundo. His archived posts remain here at Cryptomundo.