Posted by: Loren Coleman on April 29th, 2010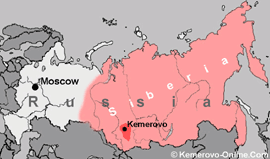 Kemerovo Region is located in the southern part of western Siberia, about 3,500 km from Moscow. Over 3 million people live in the Kemerovo area, mostly in large cities. Only 13% of the population lives in the rural areas of the Kemerovo Region, which may be inhabited by the region's version of the "Snowmen." The Kemerovo Region is also known as Kuzbass – from "Kuznetsk basin" – the name of the largest coal deposit on Earth, which is located there.
Kemerovo Region resident claims rescuing Yeti in spring flood.

29 April 2010
ITAR-TASS World Service

KEMEROVO, April 29 (Itar-Tass) ‹ A resident of the village Senzaskie Kichi, Kemerovo Region, hunter Afanasy Kiskorov, claims that he rescued a Yeti during a spring flood on the mountainous river of Kabyrza. His actions were witnessed by local residents, Itar-Tass learnt at the administration of the Tashtagol district of the Kemerovo Region, a supposed habitation place of a hominid.

While fishing, Kiskorov and other local hunters heard strong ice crushing and shrill howling. Rushing to the piercing shriek, the huntsmen saw "a creature, covered with dark-brown fur," in the river some ten metres from the bank.

"The strange creature, looking like a huge man, tried several times to get out of water and to stand up on both feet, but dropped into the water each time and was howling. The hunters stood frozen, and only Kiskorov hurried to offer help: he threw the creature the dry trunk of a young aspen tree, the creature clutched to it and crawled to the bank," the district administration said.

The Kemerovo Region registers a high spring flood this year, and many mountain rivers just started breaking ice. Ice at some sections persists, but very thin. The village of Senzaskie Kichi, located 140 kilometres from the Tashtagol district centre deep in the taiga, has no electricity and a road. A helicopter flies to the village once a week.

The last flight brought a letter, signed by Kiskorov and another three
huntsmen, to the head of the Tashtagol district administration with a story about this incident.
Thanks to Paul Cropper, for this news tip.
Loren Coleman – has written 5489 posts on this site.
Loren Coleman no longer writes for Cryptomundo. His archived posts remain here at Cryptomundo.