Posted by: Loren Coleman on October 25th, 2008
The first Bigfoot-Bluff Creek series of events, taking place about 45 miles northeast of Eureka, California, continued after the newspapers published the Jerry Crew cast early in October 1958.
A famous roadway sighting of a Bigfoot has become a typical model repeated often. What if it wasn't real in the first place?
Capturing the mood of the time, one sees hints about "following the money" in the initial re-tellings. This is the place to begin to unfold any investigations of these early days:
Ray Wallace said he at first thought somebody was deliberately trying to wreck his contract and he was not alone. However, the local representative of the Humboldt Times, Mrs. Elizabeth (Betty) Allen, set about to investigate the possibility on her own, and discovered beyond a doubt that neither good nor bad publicity, nor any kind of "scare" actually made any difference to Mr. Wallace's contract. First he was a subcontractor; second he was more than up to schedule; third there was no time set on the job; and fourth, it was basically contracted by Messrs. Block and Company with the Forest Service on a performance, not a time, basis. Ray Wallace got so angry he brought in a man named Ray Kerr, who had read of the matter in the press and asked for a job in order to be able to spend his spare time trying to track the culprit. Kerr brought with him a friend by the name of Bob Breazele, who had hunted professionally in Mexico, owned four good dogs, and a British-made gun of enormous caliber which considerably impressed the locals. Kerr, an experienced equipment operator, did a full daily job: Breazele did not take a job but hunted.

Tracks were seen and followed by them. Then one night in late October, these two were driving down the new road after dark and state that they came upon a gigantic humanoid or human-shaped creature, covered with 6-inch brown fur, squatting by the road. They said it sprang up in their headlights and crossed the road in two strides to vanish into the undergrowth. They went after it with a flashlight but the underbrush was too thick to see anything. They measured the road and found it to be exactly 20 feet wide from the place where the creature had squatted to the little ditch where it had landed after those two strides. Spurred by this encounter they redoubled their hunting forays but their dogs disappeared a few days later when they were following Bigfoot's tracks some distance from the road-head. They were never seen again though story was told — but later denied by its teller — that their skins and bones were found spattered about some trees. Though this story was denied, there is as much reason to believe that this was done to obviate ridicule as to clear a conscience.Ivan T. Sanderson, 1961
The road-crossing sighting (shown in the above drawing) on October 12, 1958, of a Bigfoot by Wallace-hired men, Ray Kerr, 43, and Leslie Breazeale [also written as Bob Breazle], 35, is today taken as something less than perhaps fully truthful.
Nevertheless, most books on Bigfoot will include this encounter as some form of proof for Sasquatch, equal to the stories of 50 gallons drums being thrown down embankments around the Wallace construction site that were (dubiously) reported by Ray Wallace's brother, Shorty.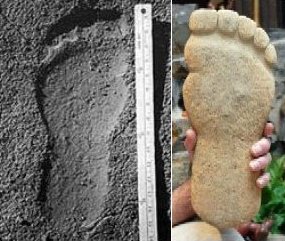 Around Bluff Creek, in 1958, one begins to see that the witnesses mentioned often turn out to be Wallace relatives, friends, and specially-hired employees, some leaving fake footprints and others telling tall tales of elaborately detailed sightings. Many of these stories have passed into the almost folkloric status of Bluff Creek's "first" Bigfoot reports as if all of them happened one day after another, when in fact they are spread out in time and space, from August 1958 through November 1959, with many Wallace compatriots connecting the dots.
Master prankster Ray Wallace did not have to be "on-site" for the pranks to occur, of course.
Loren Coleman – has written 5489 posts on this site.
Loren Coleman no longer writes for Cryptomundo. His archived posts remain here at Cryptomundo.