Posted by: Loren Coleman on June 21st, 2010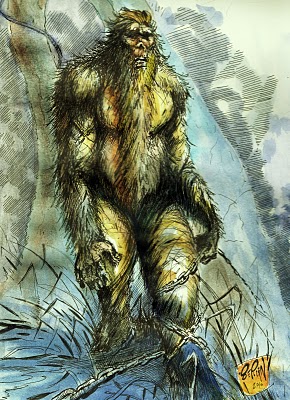 Knobby 2010, the Blond Bigfoot by Charles Berlin © 2010, for the International Cryptozoology Museum.
In the northern half of the world, it is the first day of summer.
The world is waking up to the reports from North Carolina of the new sightings of a hairy hominoid, first named "Knobby" in the late 1970s. Knobby, as the moniker, probably will stick versus the "Blond Bigfoot," or any other tag.
Over the weekend, news media recycled the stories of Tim Peeler's Cleveland County, NC, encounter with the ten-foot-tall bearded blond Bigfoot.
Also, there were new stories coming in from a nearby county (Burke) of the find of a footprint a mere 15 miles away. The imprint measures fifteen by eight inches long. Reportedly, on Sunday, on Father's Day, Tom Biscardi showed up in town to investigate.
The single track shown in the news video (and also here and here) certainly looks pressed with force into the ground, and even has the squarish toes of a Ray Wallace clone-fake. The event may have been a hoax. But we are not sure due to the less than sterling followup by the media.
Sometimes it does seem to be all about a rival station's headlines that can be developed in the wake of another local news organization's story, and who can get the best pictures. It was the case in this instance, apparently.
Loren Coleman – has written 5489 posts on this site.
Loren Coleman no longer writes for Cryptomundo. His archived posts remain here at Cryptomundo.