Posted by: Loren Coleman on January 10th, 2007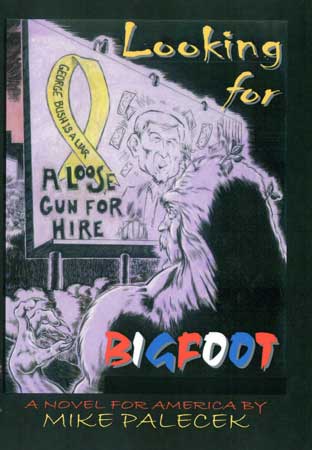 The Sioux City Journal mentions a talk on January 11, 2007, by a Bigfoot cryptofiction and cryptopolitical writer.
Author Mike Palecek of Sheldon, Iowa, will provide a reading from his most recent book, Looking for Bigfoot: A Novel for America, at 7 p.m. Thursday in Meis Recital Hall on the Briar Cliff University campus.
Palecek, a peace activist and one-time candidate for the U.S. House of Representatives, also will share selections from some of his other novels, including KGB, The Truth and Terror Nation. The author will sign copies of his books following the reading which is sponsored by the Briar Cliff University English Department.
A former seminarian and small town newspaper reporter, Mike Palecek's novels typically take place in Iowa or Minnesota.
This is a chance to revisit the groundbreaking nature of this novel. I picked Mike Palecek's journey as one of the best cryptofiction books of 2005. As it turns out, his book might have been two years ahead of itself, if what is happening in Iraq is any indication. But that's the point, isn't? I made these observations then:
Looking for Bigfoot: A Novel for America
In the new arena of cryptozoologically-inspired political novels is Mike Palecek's Looking for Bigfoot: A Novel for America. The author's underlying meaning for his "search" is clear. "Nobody believes in UFOs or the grassy knoll or Bigfoot…because the state, the television, Diane Sawyer…have programmed us to laugh at those things and the people who believe in them," writes Palecek.
"I can change it. I can change this country! I will find Bigfoot, and that will begin the unraveling of all the secrets of this cheesy nation," Palecek observes.
Some people won't like this book, but that's not the point here. It has been written and, philosophically and politically, that speaks volumes.
Loren Coleman – has written 5489 posts on this site.
Loren Coleman no longer writes for Cryptomundo. His archived posts remain here at Cryptomundo.