Posted by: Loren Coleman on March 28th, 2007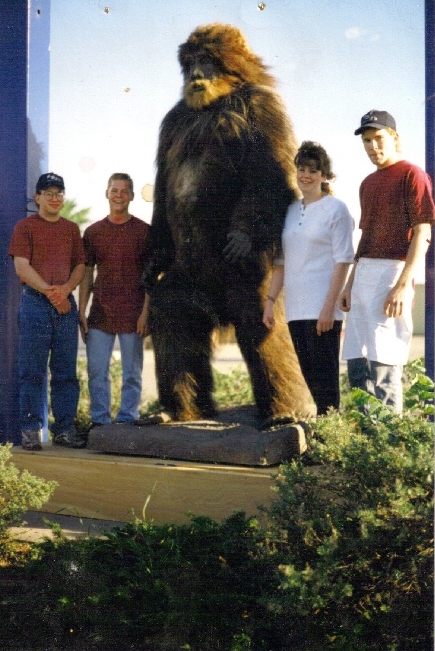 New historical photographs of the former "Crookston Bigfoot" have been sent to me from the artist who created it. BTW, the big guy's finally back home in Maine.
The photo above is an image of the Bigfoot standing near the RBJ's Restaurant in Crookston, Wisconsin, with the owner and her staff. As you can see, the Bigfoot actually was kept outside, and the nice effect of the wind blowing through its hair gave the beast an "alive" feeling. However, eventually, being inside, away from the harsh effects of the weather, seemed better for it as it grew older.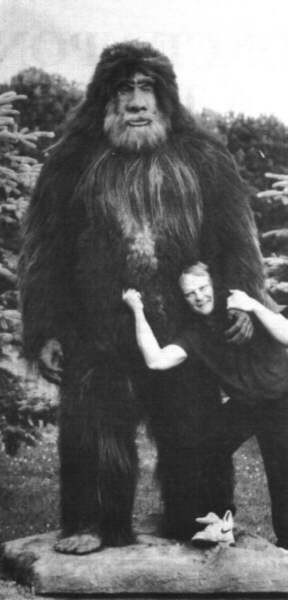 As you may recall, I labeled the above image as typical of what I thought occurred with the Bigfoot, of a tourist stopping by to get his picture taken with the Bigfoot. In fact, the creator Curtis Christensen tells me this is a bad black and white reproduction of one of the earliest photos of the Bigfoot, which he had briefly nicknamed "Yeti." The individual pictured is none other than Christensen himself. He's sent me a clearer color photograph of this same scene. Boy was I surprised by this news.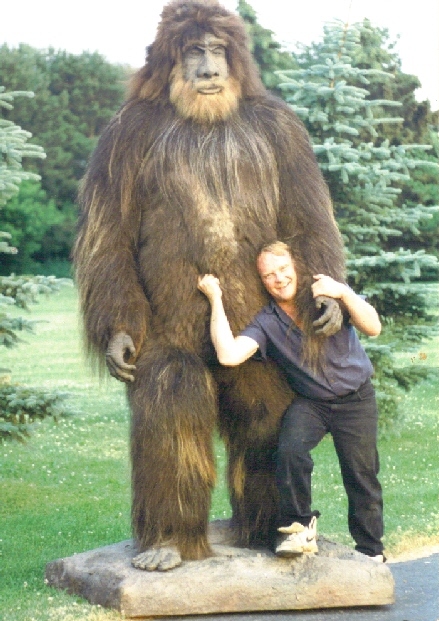 Christensen joked with me that "I've been called worse things than a tourist."
BTW, he did confirm the origins of the "look." He told me he had definitely created the model of the Bigfoot on "his memory" of what he recalled about Bigfoot from the film Harry and the Hendersons, without actually "copying" it.
Revisit my earlier blog about the Crookston Bigfoot to see other images of it.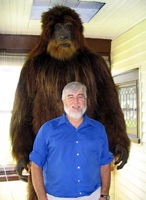 Above, this is the well-known image from the summer 2005, taken by Joseph Citro, a photograph which also appears in his Weird New England.
Another photo from that visit with Joe Citro is featured on the cover of the new edition of Mysterious America, hitting bookstores in less than a month.
Loren Coleman – has written 5489 posts on this site.
Loren Coleman no longer writes for Cryptomundo. His archived posts remain here at Cryptomundo.