Posted by: Loren Coleman on September 16th, 2006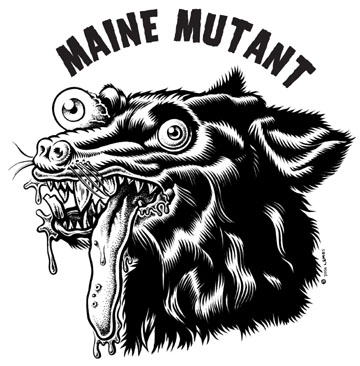 Mystery animal found roaming
WILMINGTON — The town appears to be home to a mystery creature, much like the dog-like animal that haunted Maine residents for months before being hit by a car last month. A Lloyd Road resident called police yesterday morning to report that his son "was almost attacked by what he believes to be a mountain lion" the previous night, according to police logs. The man described the beast as being "large" and "grey/white in color," the logs note. The Animal Control Officer was notified of the incident, the logs say.
Source:
September 13, 2006
The Lowell Sun
Lowell, Massachusetts
Unfortunately, what is immediately obvious is that the years-long reports of a cryptid in Central Maine have forever been tied to the "Maine Mutant" roadkill – a dog- even though no direct link was ever made.
The Maine roadkill was of an unidentified animal, later through DNA tests, confirmed as a dog, as opposed to a cryptid in the woods and certainly not the same as the felid crypid mentioned here from Massachusetts.
Art by Mike Lemos. Used by permission.
Loren Coleman – has written 5489 posts on this site.
Loren Coleman no longer writes for Cryptomundo. His archived posts remain here at Cryptomundo.