Posted by: Loren Coleman on June 20th, 2008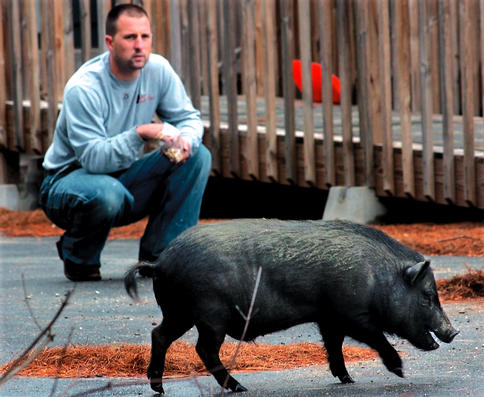 Jerry Hart gets ready to toss another dog treat to a wayward pig that showed up Thursday at the home of his mother, Pam Hart, on West River Road in Waterville. David Leaming/Blethen Maine News Service
First seen running free last month at Colby College, the swine shows up four miles away and gets some cat and dog treats. Wow, the authorities can't even catch a pig? How are we to expect them to capture Bigfoot?
Amy Calder of the Blethen Maine News Service updates the search for the little pig that can't be caught in the June 20, 2008, issue of the Portland Press Herald.
Basically, the little porker formerly seen on the Colby College campus last month turned up on June 19, 2008, four miles away on a West River Road lawn in Waterville, Maine.
Still unknown is who actually owns the pig. Animal control officers have been unable to capture it.
Calder's article is here, but it doesn't add too much in terms of new details.
I'm curious. Early reports said this was a pot-bellied pig. If so, this new photo certainly seems to show it is getting rather trimmed out and more feral-looking (note the razorback-like bristles on the back).
Loren Coleman – has written 5489 posts on this site.
Loren Coleman no longer writes for Cryptomundo. His archived posts remain here at Cryptomundo.