Posted by: Loren Coleman on February 17th, 2006
The media items from Malaysia of the ongoing Bigfoot investigations, of course, are sounding less and less like the traditional Pacific Northwest Bigfoot. No surprise there.
More elaborate photographs of the track finds have been published, and illustrations of the folk art representing the creatures have been printed, as well.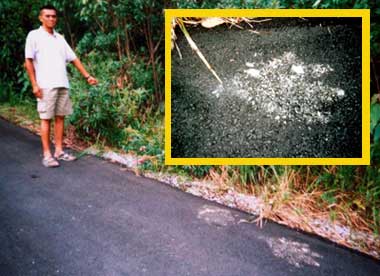 The Asian Paranormal Investigation findings run 49 pages long, and, in essence, deconstructs the media and wonders if there's a "Bigfoot" at all behind the sightings. The API report concludes the encounters are with Malay orangutans. Of course, cryptozoologically speaking, this would still be a worthy discovery, as orangutans have not been on the mainland for thousands of years.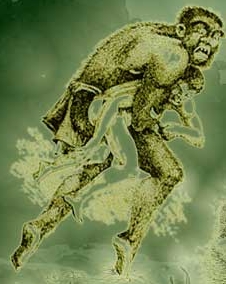 The serjarang gigi, shown here, is another name that the API reports is used for the Malaysian Bigfoot.
The New Straits Times of February 18, 2006 notes:
While the State Government is preparing its scientific expedition in April to track down the creature, a group from Singapore has conducted a Bigfoot experiment in Batam. Members of the Singapore Paranormal Investigators group had planned a search in the jungles of Johor earlier this month, but their request to the Johor National Park Corporation for permission was turned down.
Meanwhile, our Cryptomundo exclusives (see Harold Stephens Interview, Part I; Harold Stephens Interview, Part II; all Malaysian Bigfoot Cryptomundo postings) made news in Malaysia. The New Straits Times wrote:
International Bigfoot websites such as the Bigfoot Research Organisation and Cryptomundo are running online discussions and advisories on the Johor Bigfoot. Cryptomundo recently ran an interview with Bangkok- based travel correspondent and author Harold Stephens.
This was followed by nine paragraphs paraphrased from Cryptomundo about Stephens' 1970s expedition discoveries about Orang Dalam.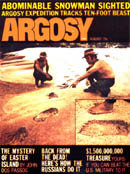 While the story has died down in the West (after all, what could compete against the Cheney-shoots-friend-not-quail story), in Malaysia, at least, the "Bigfoot" interest remains high.
Loren Coleman – has written 5489 posts on this site.
Loren Coleman no longer writes for Cryptomundo. His archived posts remain here at Cryptomundo.