Posted by: Loren Coleman on February 25th, 2006
DNA samples, theories on the creatures living in the swamps, future appearances on reality television are all in the news. Do not look for the Malaysian Bigfoot story to bolt from the media radar soon. Furthermore, we continue to ponder what to make of this track, cast by Sci-Fi's Josh Gates?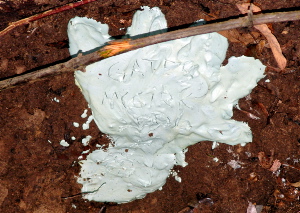 The footprint site is more visible in this new photograph (above) of the Malaysian Bigfoot cast still in the ground. This is the footcast that will be tested for DNA.
Compare it to the following images of the other side of the cast and various comparative rhino and Orang Pendek images.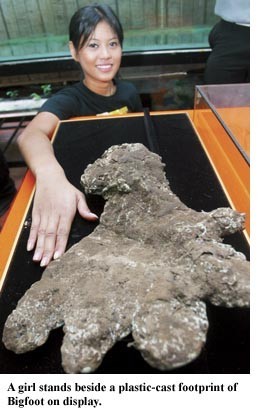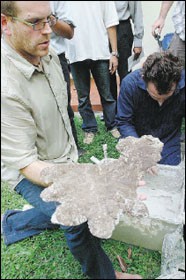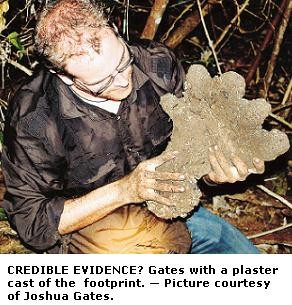 Sumatran rhinos do exist in this area and double-stepping has been suggested. Below is the foot of an African rhino. The rhino foot can configure in a variety of ways.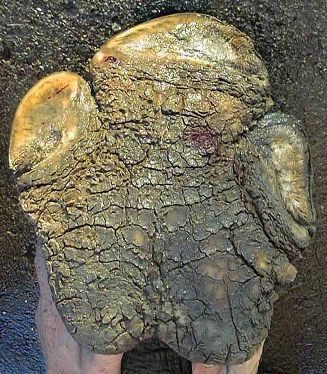 Ignore the red outline on the cast below, said to be of the foot of an Orang Pendek, and note that a possible hallux (a big toe) may be sticking out to the side of this track, as is found among the pongids. (The Orang Pendek cast was collected in Sumatra.)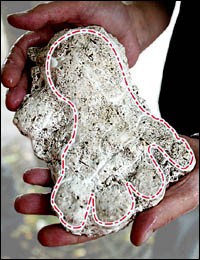 ########################################
Note to those interested readers following the "Malaysian Bigfoot" postings and comments: Cryptomundo has created a new archives category (on the right side of your page) for all of the postings on the Malaysian breaking news items so you can now more easily find them. Don't forget, your comments on "old" stories and postings are read and revisited by thousands of Cryptomundo readers daily. Take the time to share your thoughts. The bloggers read every one.
Loren Coleman – has written 5489 posts on this site.
Loren Coleman no longer writes for Cryptomundo. His archived posts remain here at Cryptomundo.