Posted by: Loren Coleman on June 1st, 2010
The summer has officially begun in the Northern Hemisphere, not because the calendar says so, but due to the fact, crazy crocs are turning up already.
Some of them have been within the territory of the gators, just in surprising locations, like…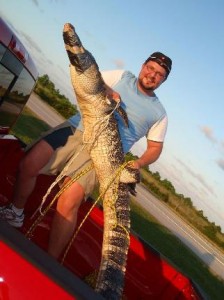 A 7-footer in a subdivision pond in Richmond, Texas on May 25th.
This Gwinnett County Police Department photo shows the 5-foot-long alligator that was trapped in mid-May after a police officer spotted it in the subdivision of Dacula, Georgia.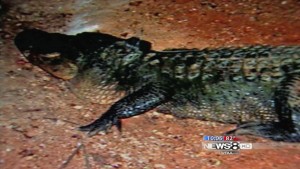 Lake Worth, Texas was closed because a 6-foot-long alligator was found there on Friday, May 28, 2010.
But the most surprising is the news out of Massachusetts:
A report that a alligator was spotted in D.W. Field Park on Saturday [May 29, 2010] brought state environmental agents to the park off Oak Street [in Brockton, Massachusetts] over the weekend.

Environmental police came to the park on Saturday [May 29, 2010] and Sunday [May 30, 2010] looking for the alligator, but did not find one, said Catherine Williams, a spokesman for the state Department of Energy and Environmental Affairs.

"We haven't confirmed the sighting," Williams said Sunday [May 30, 2010].

The two-day response came after environmental police received a report of the alligator in the park at 12:30 p.m. on Saturday [May 29, 2010], she said. Williams did not have an exact location of the reported sighting.

"We're continuing to look at it and investigate it," she said.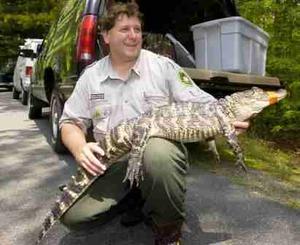 Source: Patriot Ledger/Enterprise.
In July 2005, environmental officials pulled a 20-pound, 41/2-foot alligator [photo above] from Waldo Pond at D.W. Field Park after a city resident spotted the animal from the shoreline. A second, smaller, alligator was spotted at the pond but never found. It was last seen on Aug. 9, 2005.

Alligator sightings have been reported across the region, including in Abington and Middleboro.

In September 2005, a 52-inch alligator was pulled from the water of Stump Pond in Middleboro.

Officials have said the alligators in 2005 were likely abandoned in the water.

It is illegal to buy or own alligators without a permit in Massachusetts, but the reptiles are sold in Rhode Island and New Hampshire.

"These animals can get to over 400 pounds and they're not legal to have here," Williams said. "It's a concern for us."
Loren Coleman – has written 5489 posts on this site.
Loren Coleman no longer writes for Cryptomundo. His archived posts remain here at Cryptomundo.