Posted by: Loren Coleman on August 25th, 2011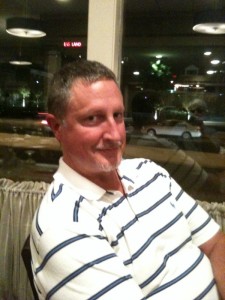 On the evening of August 24, 2011, I had dinner with clinical psychologist Matthew Johnson. Matt is known for his Bigfoot encounter over the first July weekend in 2001, at the Oregon Caves. He is in Portland, Maine, in conjunction with his positive parenting talks he delivers around the country.
Our dinner served as a good chance for us to meet and talk, mostly about Sasquatch, of course.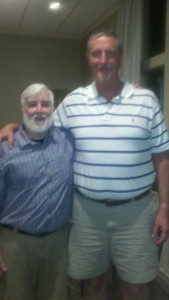 If you have never met the man, first off, the friendly and personable Matt is large.  At 6 ft 9 inches, his 2001 sighting of what he sensed was a large Bigfoot is placed in an important context. The creature was much bigger than this tall human. Matt is a credible witness, from my past interactions with him, long distance, and this was only reinforced when I interviewed him over dinner and afterward.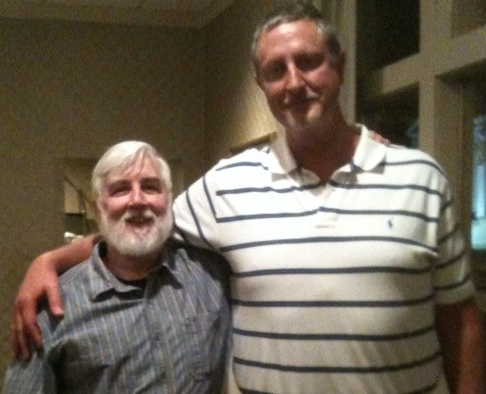 We spent this good evening talking about the hairy hominoids. Matt shared that he has actively been finding evidence of Bigfoot in recent months. His experiences have involved incidents of locating tracks and hearing vocalizations, from Oregon to Washington.
During the second weekend in July 2011, Matthew and his family made some remarkable Bigfoot finds in the Siskiyou Mountains in southern Oregon, near Grants Pass.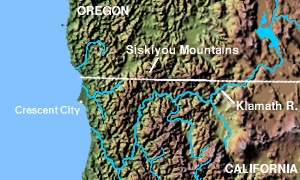 The Siskiyou Mountains are a coastal mountain range in the northern Klamath Mountains in northwestern California and southwestern Oregon in the United States. They extend in an arc for approximately 100 miles (160 km) from east of Crescent City, California northeast along the north side of the Klamath River into Josephine and Jackson counties in Oregon. The mountain range forms a barrier between the watersheds of the Klamath River to the south and the Rogue River (in Oregon) to the north.
One of the more interesting discoveries was Johnson's find of a good juvenile Bigfoot's track within its mother's track.  The juveniles' prints are naturally hidden from human trackers because the young Sasquatch are following in their parents' footsteps.
When you think about it, this is an obvious conclusion. Reflecting on this, I certainly know my sons, when they were boys, put their footfalls in mine at the beach and in walks in the snow. It is a protective adaptive behavior of many animals, and makes total sense that this would be happening with Sasquatch.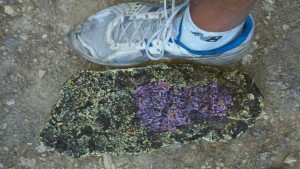 Female track with juvenile track imposed on it next to Matthew A. Johnson's size 16 shoe. July 9, 2011.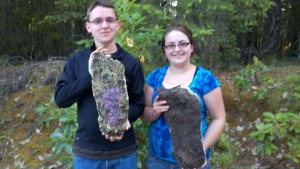 Johnson family members hold finds: Morgan found the female track with the juvenile track imposed on it about 15 feet away from the male track that Claire found on July 9, 2011.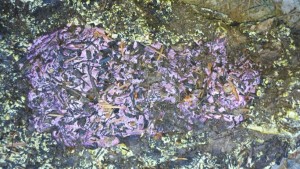 Juvenile track found imposed upon what seemed to be a mother's track, obviously following mom. This combined track was found July 9, 2011, about 15 feet away from the apparent male track.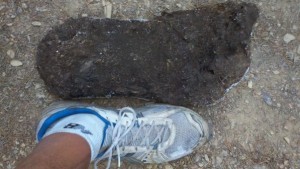 Male track next to Matthew A. Johnson's size 16 shoe. July 9, 2011.
Here are clips, reviewing Johnson's 2001 sighting (see his BFRO-submitted report here), for those that need a refresher, below:
After the Skookum Cast in the first segment, in the second section, around 8:11, the Matthew Johnson sighting is overviewed:
And for some Oregon background…
BTW, it always struck me as one of the wonderful coincidences of the 2001 event that the Oregon park ranger, known for his tracking skills, who was pulled into the investigation the day after Johnson's sighting was John E. Roth, the author of the 1997 scholarly book, American Elves: An Encyclopedia of Little People from the Lore of 380 Ethnic Groups of the Western Hemisphere
Loren Coleman – has written 5489 posts on this site.
Loren Coleman no longer writes for Cryptomundo. His archived posts remain here at Cryptomundo.