Posted by: Loren Coleman on May 25th, 2007
Saturday, May 26th is the anniversary of the death of Sir Michael Bruce, a little-remembered early columnist who wrote about Sasquatch. He died fifty years ago. Mark A. Hall has passed along the following attached notes and articles about Sir Bruce.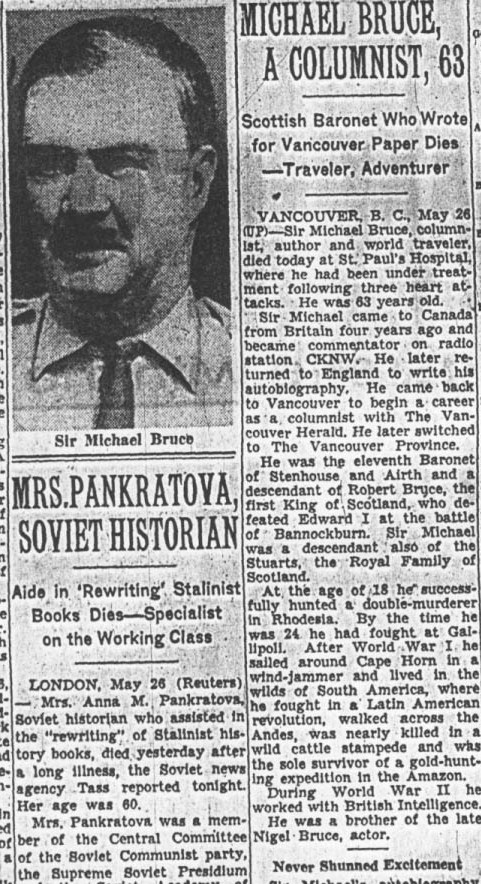 Sir Michael Bruce, an advocate for the Sasquatch, was the brother of Nigel Bruce, the actor best known for portraying Dr. Watson to Basil Rathbone's cinematic Sherlock Holmes.

Sir Bruce died of a heart attack on May 26, 1957. I mentioned him in Living Fossils, on page 20. As far as I know, no one has gone back to look up his columns in the Vancouver Herald and in the Vancouver Province to find out what he did write about the Sasquatch.

I am attaching his obit from the New York Times for Monday, May 27, 1957 and an entry from Who Was Who, 1951-1960.

Bruce was a colorful fellow and entirely overlooked except for my mentioning his interest, based on a July 6,1957 article in the Toronto Globe and Mail.Mark A. Hall
I agree with Hall, and sincerely hope that bibliograhical researchers in British Columbia rediscover and publish Sir Bruce's old columns from the Vancouver Herald and Vancouver Province. Hopefully these can be dug up and shared with hominologists worldwide who are seeking to fill in the complete picture of the pre-John Green journalism on Sasquatch.
Sir Michael Bruce…spent time hiking the mountains of BC. After one such outing he died of a heart attack on May 26, 1957 at the age of 63.Mark Hall, Wonder's Mystery Profile, May 2007.
Loren Coleman – has written 5489 posts on this site.
Loren Coleman no longer writes for Cryptomundo. His archived posts remain here at Cryptomundo.