Posted by: Loren Coleman on July 3rd, 2009
The Maine Warden Service is looking into two sightings of a giant snake in the Rumford (Maine) canal system.
Police told the Sun Journal of Lewiston that two people contacted them Wednesday, July 1, 2009, saying they'd seen a monster snake — perhaps up to 17 feet long — enter the canal system behind a local store.
Maine Warden Service spokeswoman Deborah Turcotte said early Wednesday evening: "The Maine Warden Service has received a report of an apparent large snake in the river, and a broad description of where it may be. If anyone has detailed information of a specific location where it may be for an extended period of time, please call the Warden Service so that the snake can be identified and removed, if necessary."
Snake expert Robbie White from nearby Mexico (yes, Maine) told the paper that based on the description, the snake could be a red-tail boa constrictor or a Burmese python. He said snakes in Maine don't grow to that size, unless it was a pet that escaped.
Weirdly, I just noticed that last July, right before I was trying to get out of the house also to leave on a trip, guess what showed up in Maine? Yep, a giant snake. Ah, it's just a another cryptocoincidence.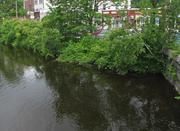 Terry Karkos/Sun Journal
Two people told Rumford police dispatcher Sue Milligan on Wednesday morning that they saw a 17-foot-long boa constrictor enter the Rumford canal here behind Bartash's store, seen in the background.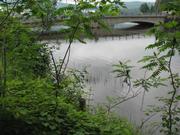 Terry Karkos/Sun Journal
An over-abundance of spring rain has turned the banks of Rumford's canal system into lush brushy habitat that could be home to a giant snake if sightings on Wednesday morning turn out to be true. This view shows the Hartford Street bridge.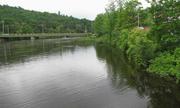 Terry Karkos/Sun Journal
High water from more than two weeks of rain has risen water levels in Rumford's canal system as illustrated by the Route 108 bridge in the background. On Wednesday, two people told police they saw a giant snake entering the water through the brush on the right off Canal Street.
Loren Coleman – has written 5489 posts on this site.
Loren Coleman no longer writes for Cryptomundo. His archived posts remain here at Cryptomundo.