Posted by: Loren Coleman on March 25th, 2007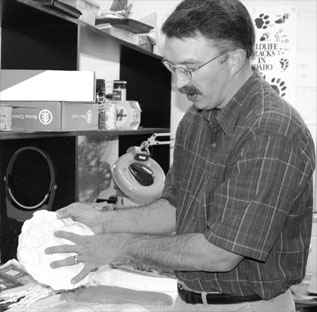 Dr. Jeff Meldrum of Idaho will be appearing on June 30, 2007, to give a Bigfoot talk and to sell and sign his Sasquatch books in California.
The official press release will be out in a month, but here's an early heads-up, as the seating is limited to a mere 120 people in the historic Louden Nelson Center auditorium near the Bigfoot Discovery Museum in Santa Cruz, California.
Here's the updated information.
BIGFOOT DISCOVERY DAY
Saturday, June 30, 2007
Felton & Santa Cruz, CA
Featuring a presentation by
Dr. Jeff Meldrum
"Sasquatch: Legend Meets Science"
A one-hour lecture followed by a short question & answer session
And a full hour to meet & greet Dr. Meldrum and fellow bigfooters after
the talk.
6:00 – 9:00 p.m.
Louden Nelson Center, 301 Center Street, Santa Cruz, CA
Tickets: $10/adult, $7/museum members, students, seniors, $5 children 12
and under
For ticket reservations please contact the Bigfoot Discovery Museum
Weekends from 10 am – 6 pm pdt at (831)335-4478
Or email
Michael Rugg at mike@bigfootdiscoveryproject.com
The museum will have special activities and displays during the day. The museum plans on having Dr. Meldrum available for an hour in the early afternoon for a book signing at the museum. He will also have footprint casts available for sale as well as copies of his book, Sasquatch: Legend Meets Science.
We hope you can make it! It's the first big event for our local bigfoot museum! Come and join us for this special gathering of bigfooters on June 30th! Make your plans now to be here for this special event!
The museum is part of the Bigfoot Discovery Project.
The Bigfoot Discovery Museum is located at 5497 Highway 9, Felton, California.
For memberships, please contact the museum staff directly via:
Email:
info@bigfootdiscoveryproject.com
Telephone:
831-335-4478
Fax:
831-335-2748.
Thanks to Tom Yamarone, Michael Rugg, and Craig Woolheater for the info.
Loren Coleman – has written 5489 posts on this site.
Loren Coleman no longer writes for Cryptomundo. His archived posts remain here at Cryptomundo.