Posted by: Loren Coleman on October 3rd, 2010
Have there been any sightings of Mothman at the end of Cape Cod lately? We don't think so, but there are new encounters with the bird that skeptics initially blamed as the source of the Mothman accounts in 1966-1967 in Point Pleasant, West Virginia.
For the past week, sightings and even photographs have been taken of a lone sandhill crane (Grus canadensis) near Provincetown, Massachusetts.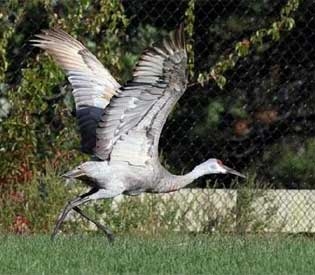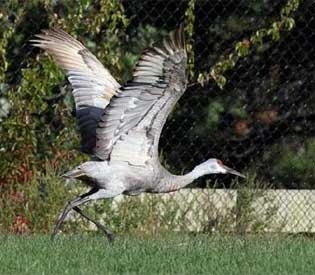 Photo by Joseph F. Cavanaugh III
Boston area newspapers have reported that the bird has been spotted foraging for a food around a soccer field near Route 6 and also close to the P-Town airport.
"It is a strikingly good-looking bird," Joseph F. Cavanaugh III, a Mashpee attorney and bird enthusiast who photographed the crane last weekend told the Boston Herald.
The sandhill crane's prolonged appearance in Provincetown is rare for the Outer Cape, but sightings of the species in the region have increased over the past five years, said local bird expert E. Vernon Laux, a naturalist for the Linda Loring Nature Foundation on Nantucket. Records of a few sandhill cranes spending the winter in places such as Cummaquid and Wareham are known.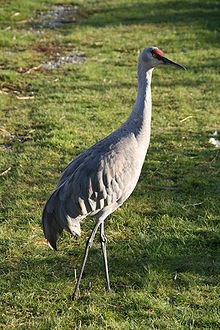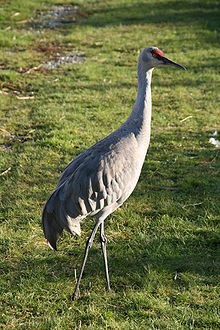 The Lesser Sandhill Crane (Grus canadensis canadensis), photographed in British Columbia.
Perhaps it is an artifact of the media, in general, link between October, Halloween, and creatures – or a result of the recent Mothman Festival (see "Ninth Annual Mothman Festival draws record numbers"), but there has been a recent rash of Mothman sightings in the blogosphere, that's for sure.
Here are a few recent examples:
Mothman Controversy
Spreadit.org
ThatsFamous‎
The Blunt Blogger
Thaindian.com